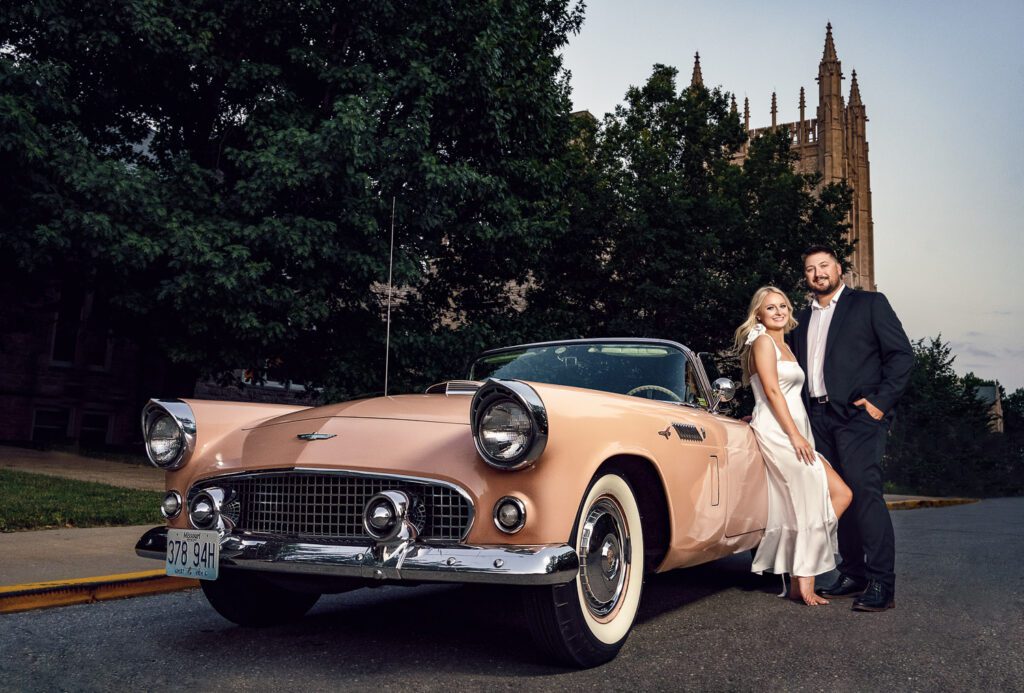 The Couple
Courtney and Michael reached out to us for their engagement session around Columbia, Missouri and thankfully we had an unexpected engagement session surprise! Courtney wanted to capture a few places that were special to them…The Tiger Hotel, The Missouri Orthopedic Institute (which is where they first met during college) and the iconic Memorial Union.
We knew this session was going to be a warm with a high of 91 degrees so we suggested Michael should wear long pants and a jacket 😉 Just kidding, but we are so glad he did! The bride-to-be wore both an elegant long black dress and a white dress while Michael chose a classy white shirt and black suit and a gray sweat towel.
While talking with Courtney during the planning stages to figure out exactly where and what we wanted to capture, Memorial Union was high on her list. Unfortunately, the day of their engagement shoot it was under construction and we could hear the disappointment in her messages. But we assured her we'd find a way to get some nice shots one way or another.
The Tiger Hotel
We started the shoot off in the Tiger Hotel lobby, capturing some playful moments on the stairs, in the elevator and out front with their fancy lights and neon Tiger sign.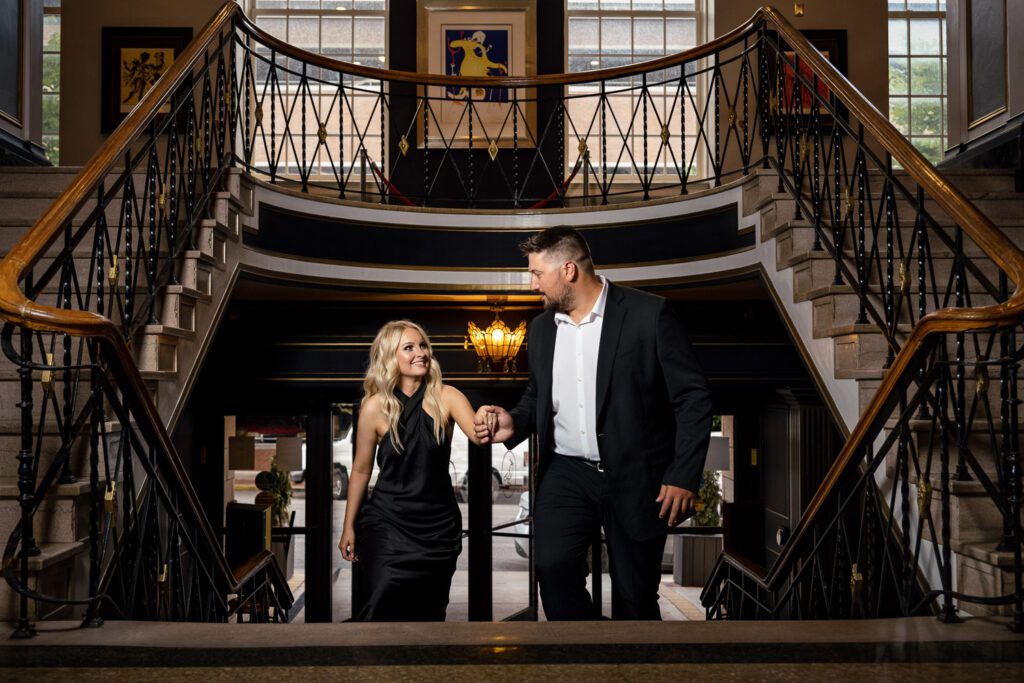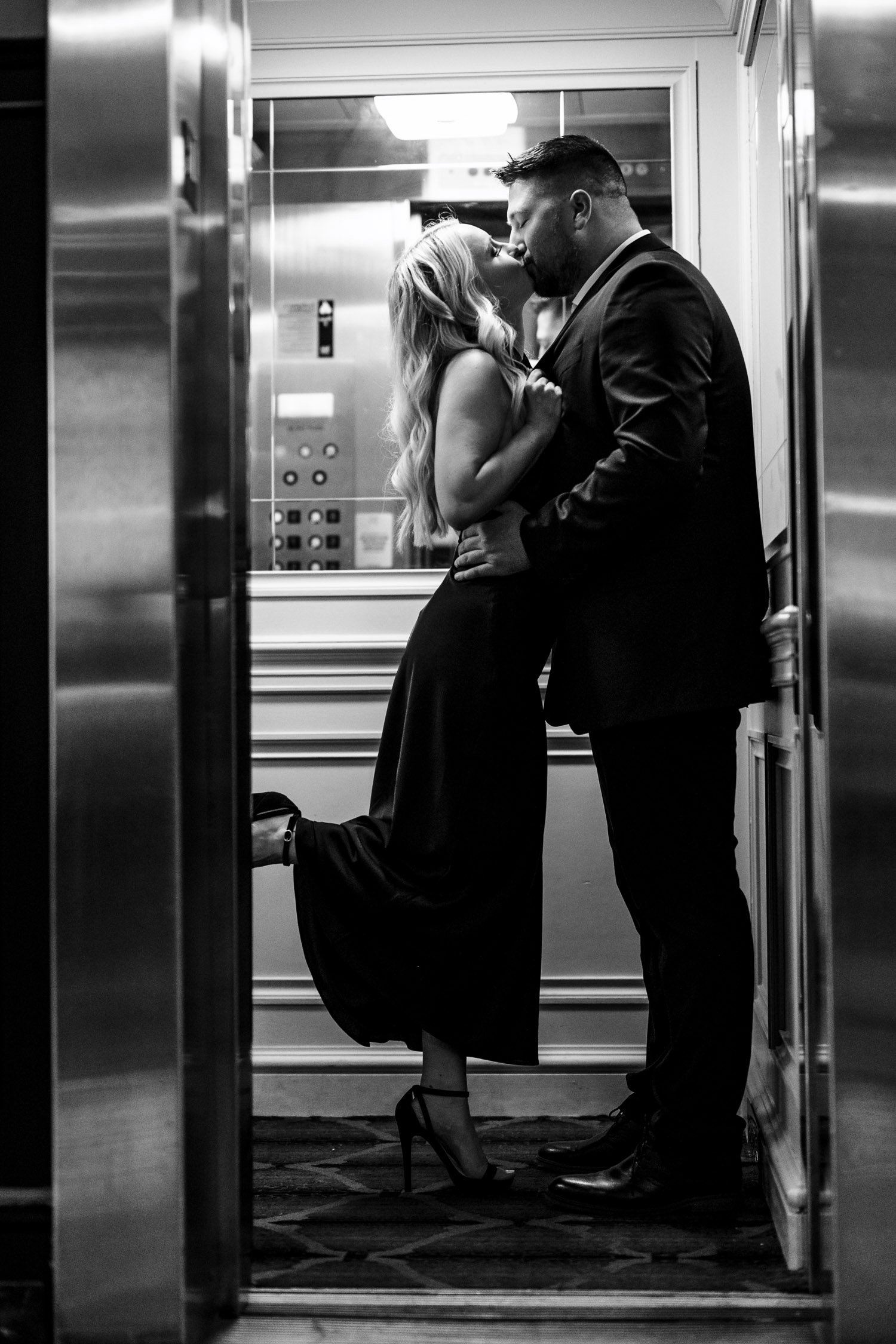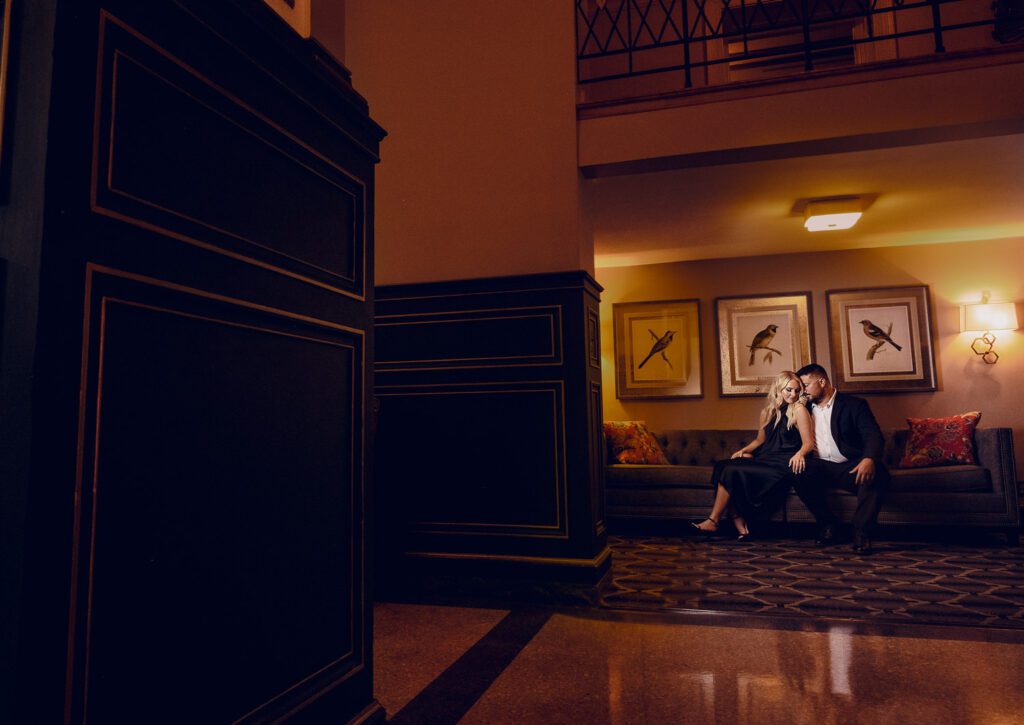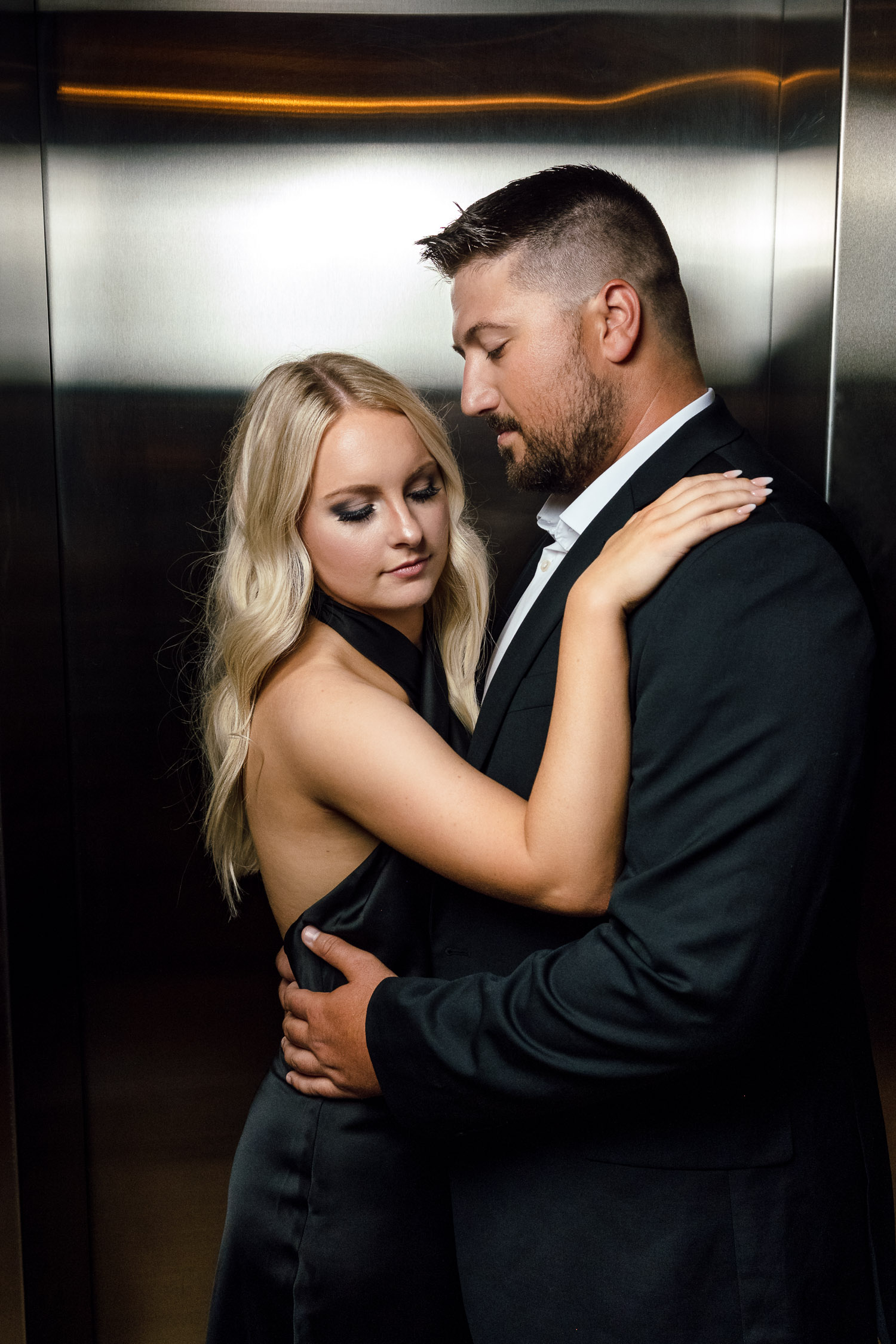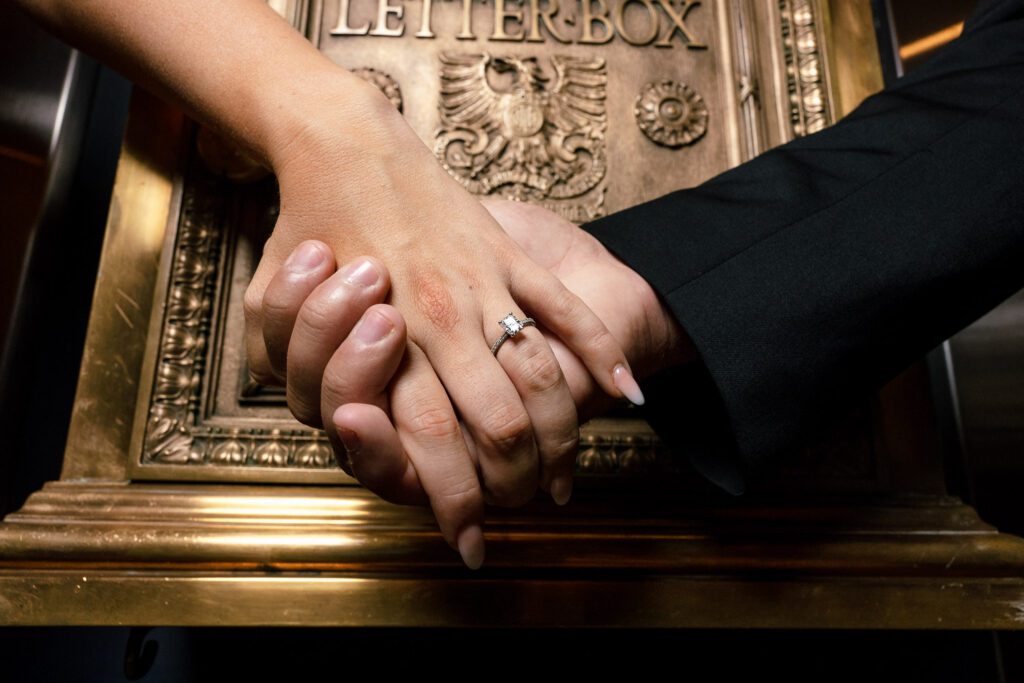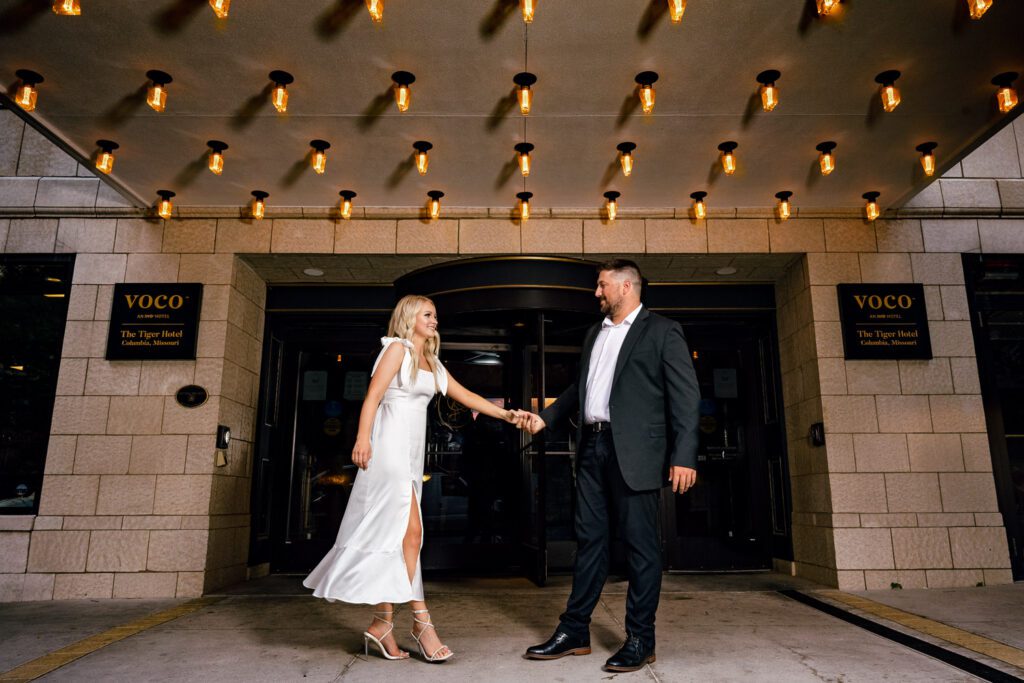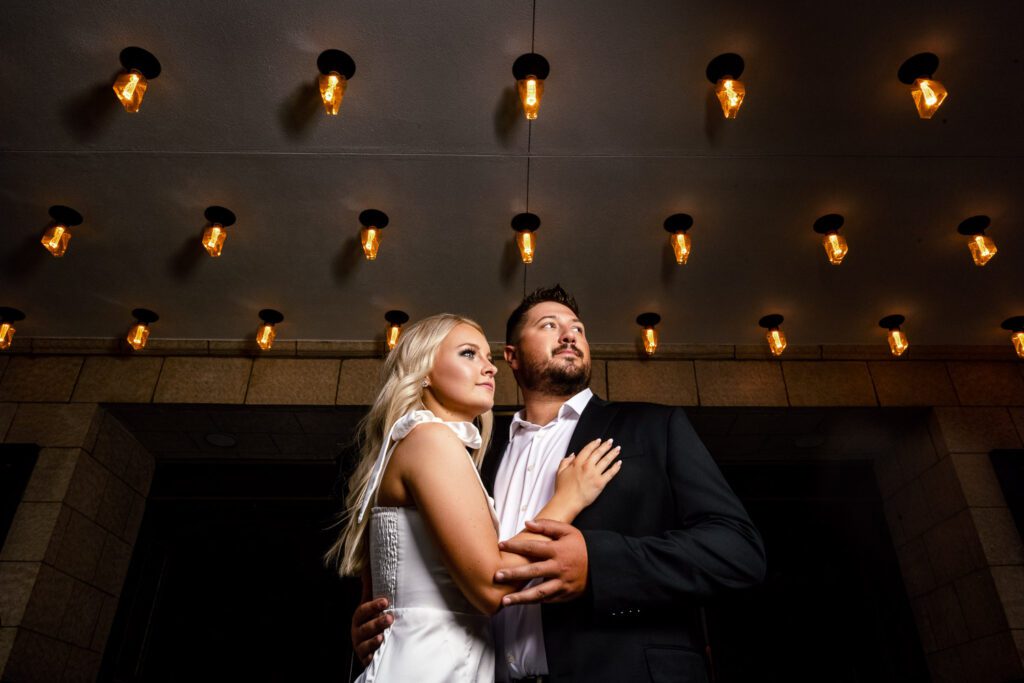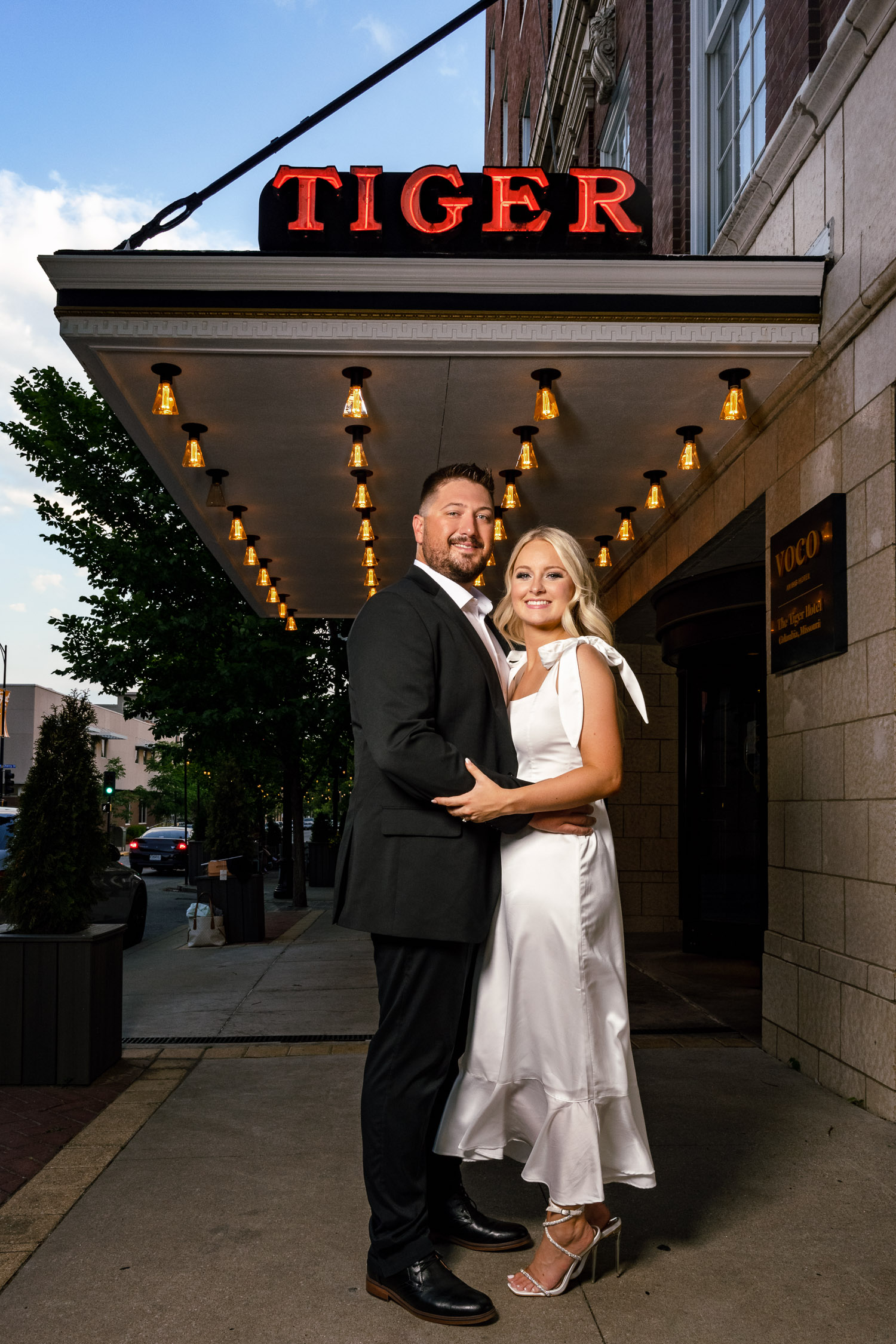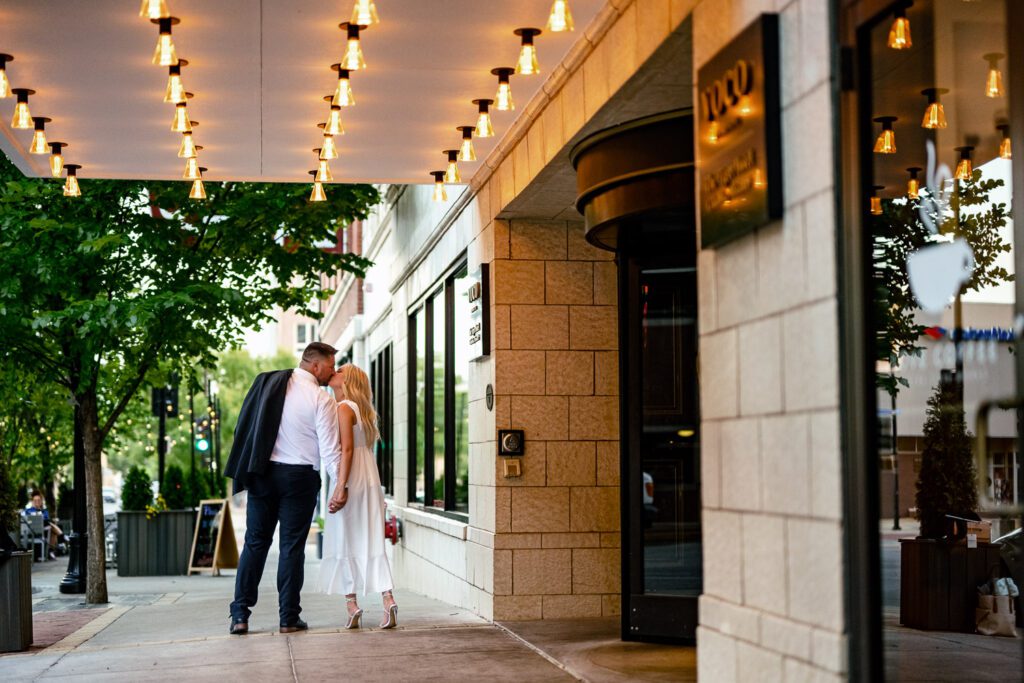 University of Missouri Campus
We then moved down to the Columns on the Mizzou Campus before heading over towards Memorial Union.
Our plan was to walk straight from Jesse Hall to Memorial Union across Lowry Mall but there was a large event taking place and they wouldn't let us through…much to the dismay of Courtney's high-heel wearing feet. Had we crossed right then and there our plan was to go to the back side of the tower, but thankfully God had a much better plan for us this evening! We ended up walking about a block out of the way and found ourselves on Hitt Street outside of the Fine Arts Building. Had we not went that way we wouldn't have been around for what happened next.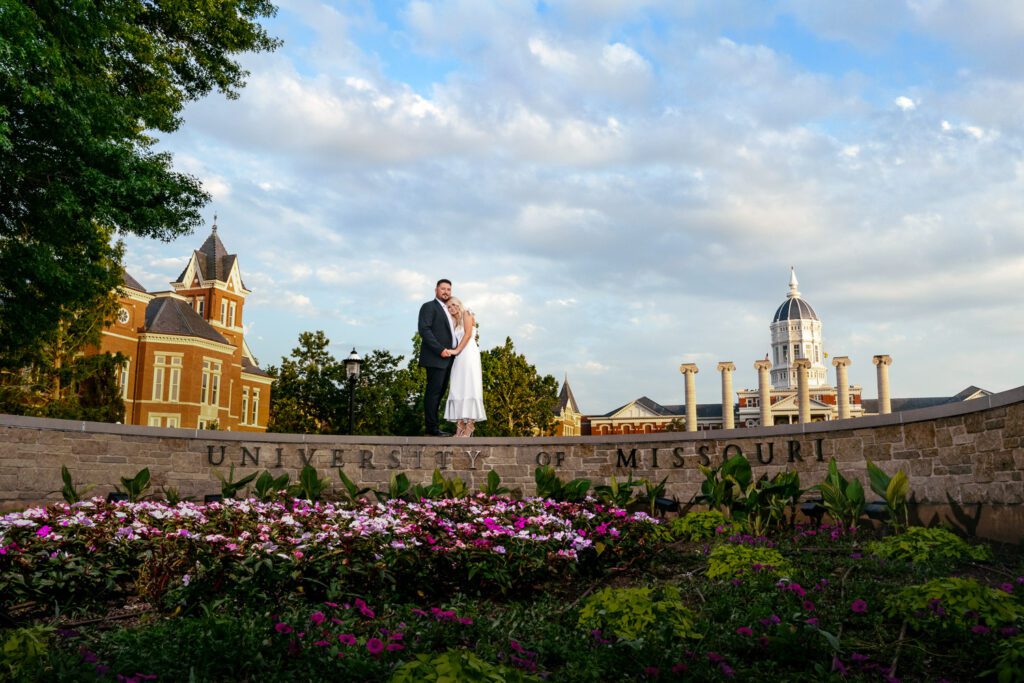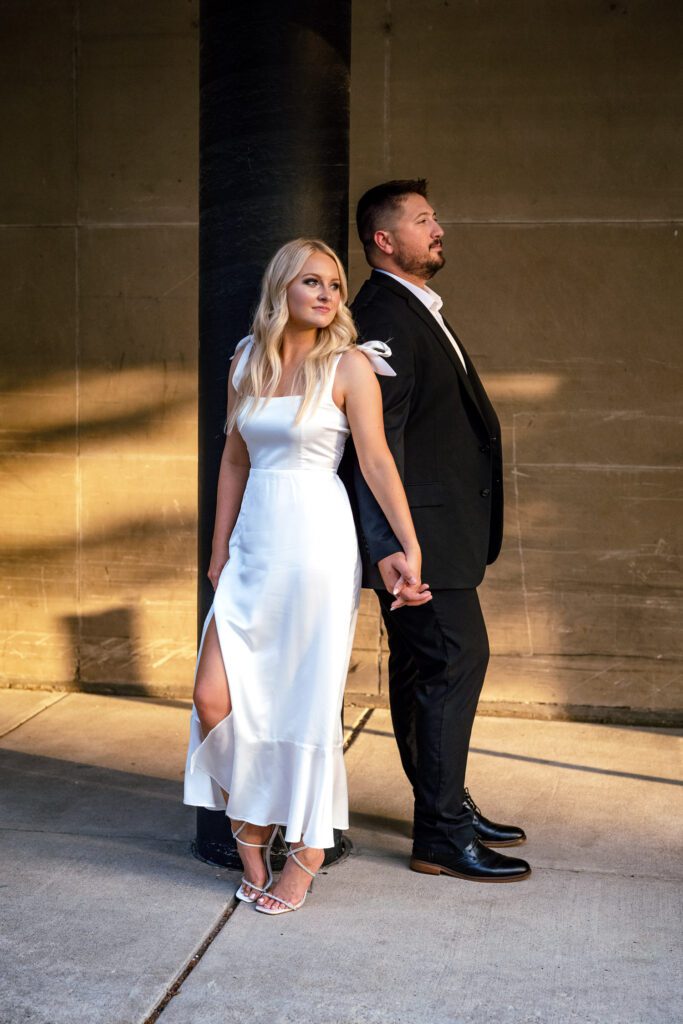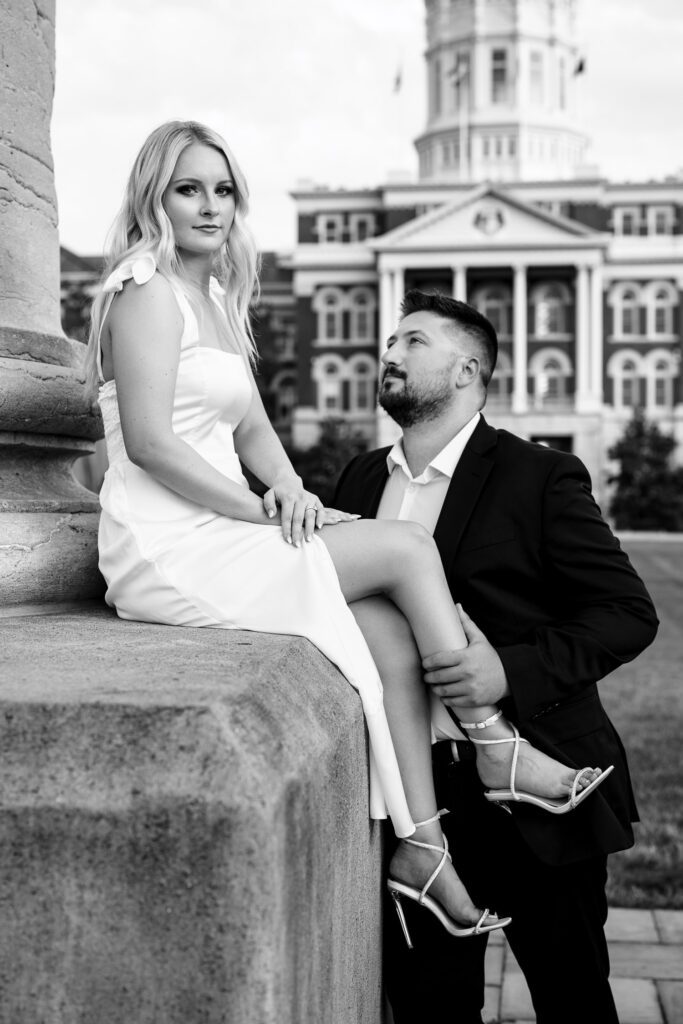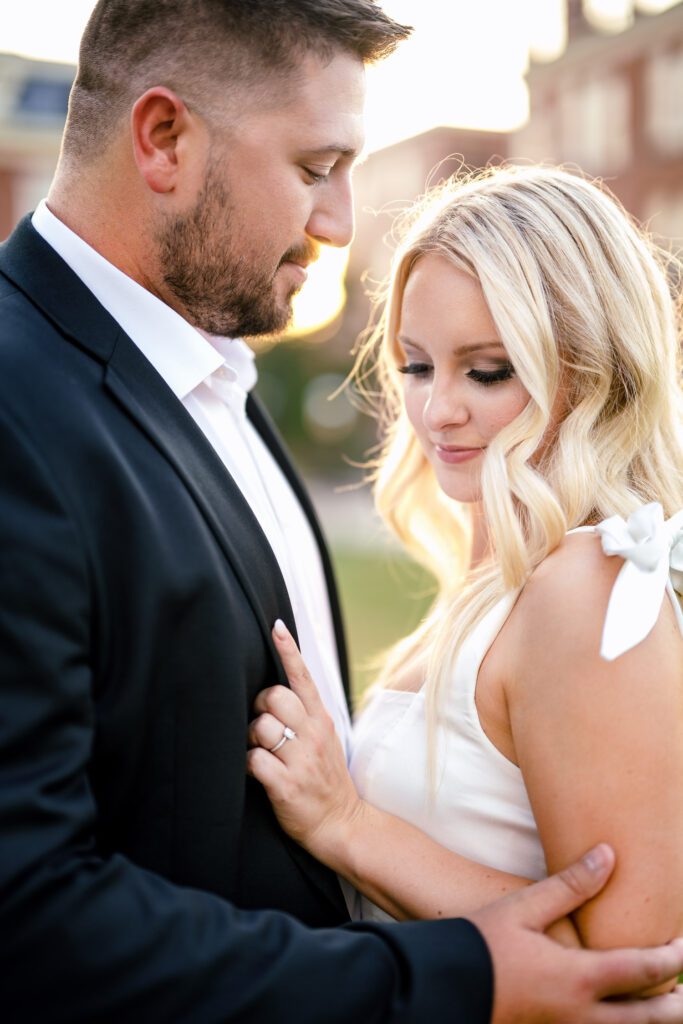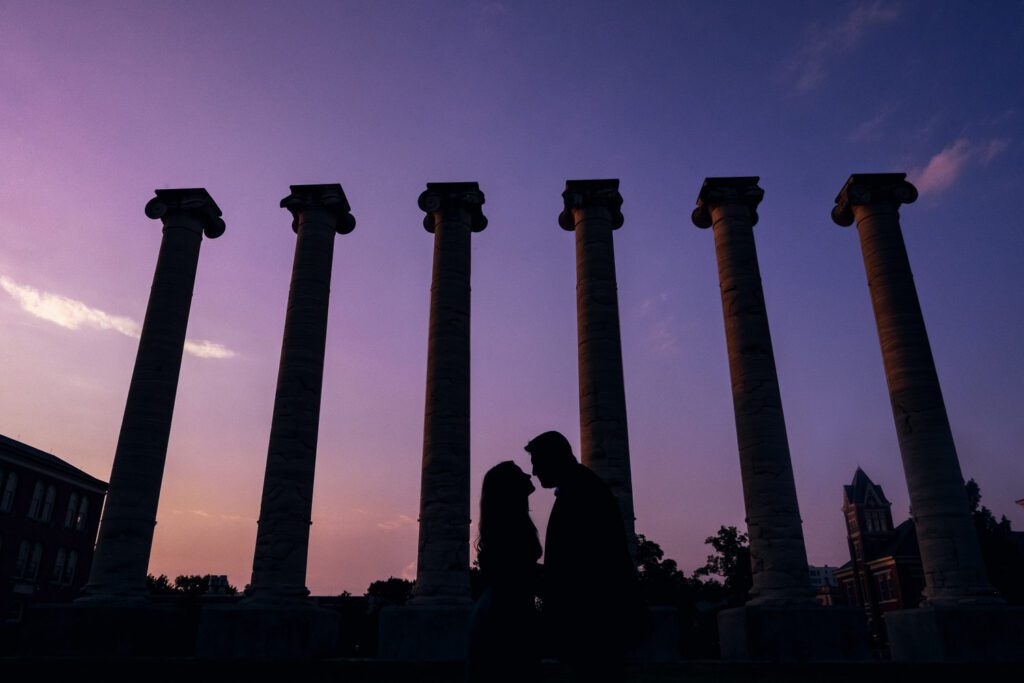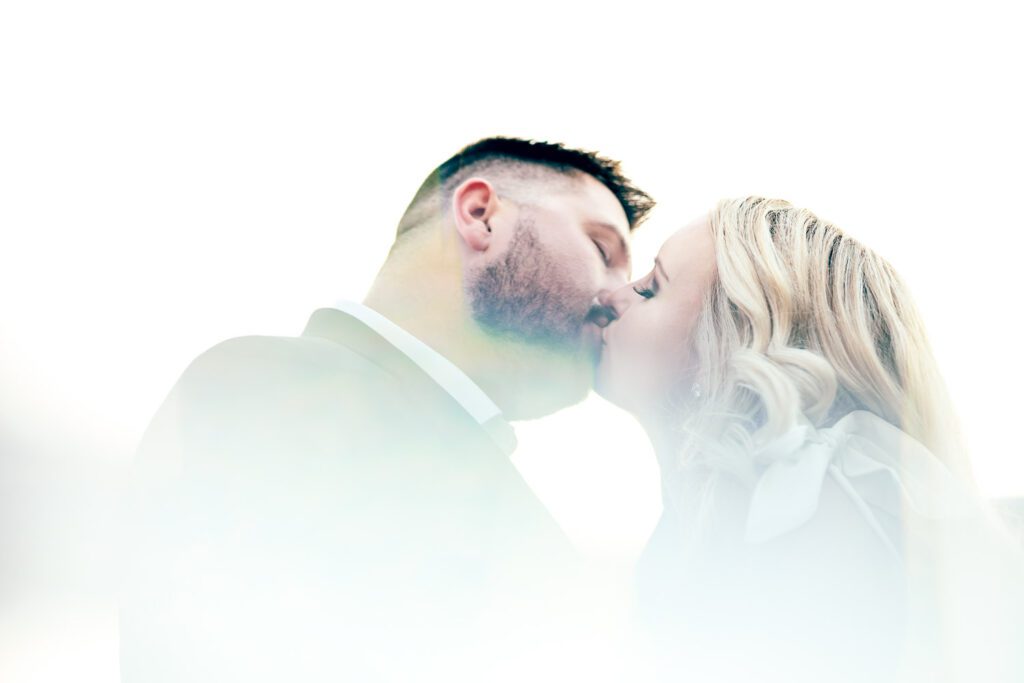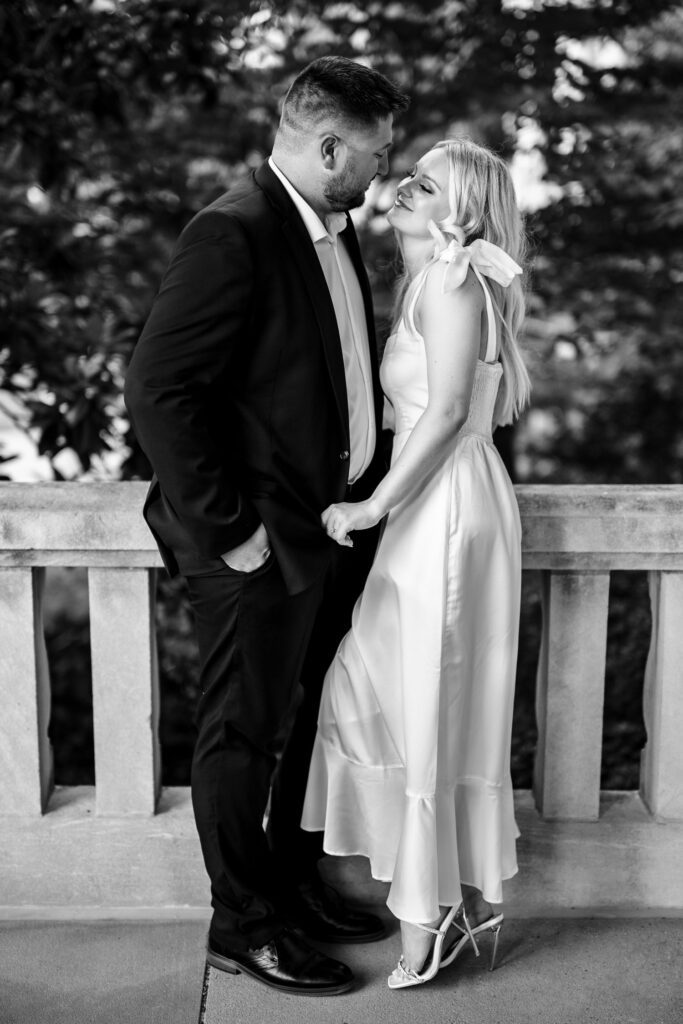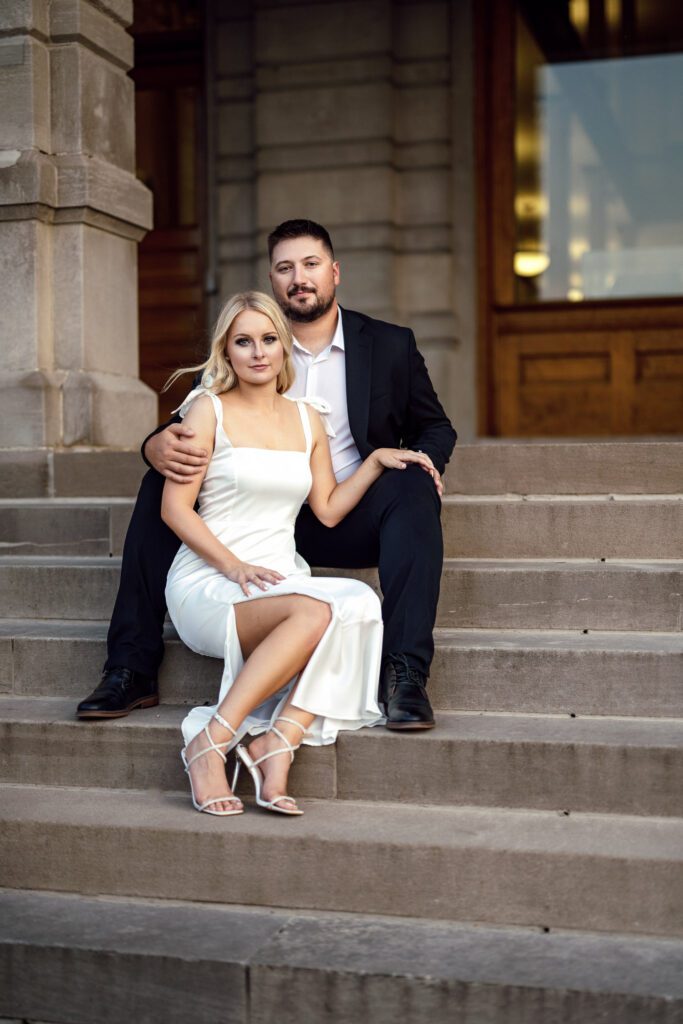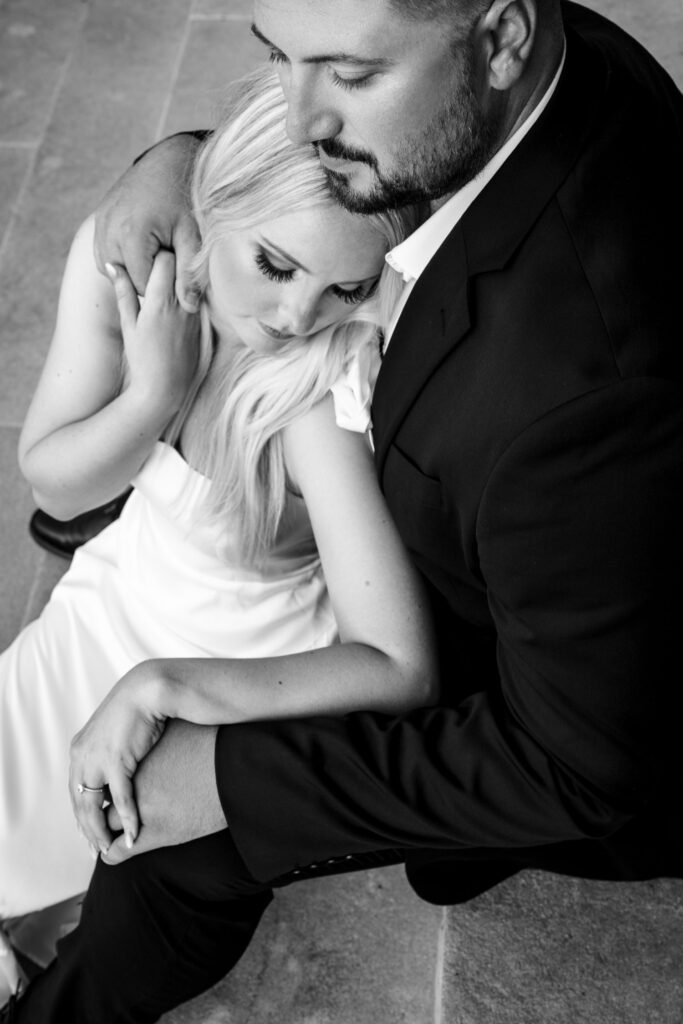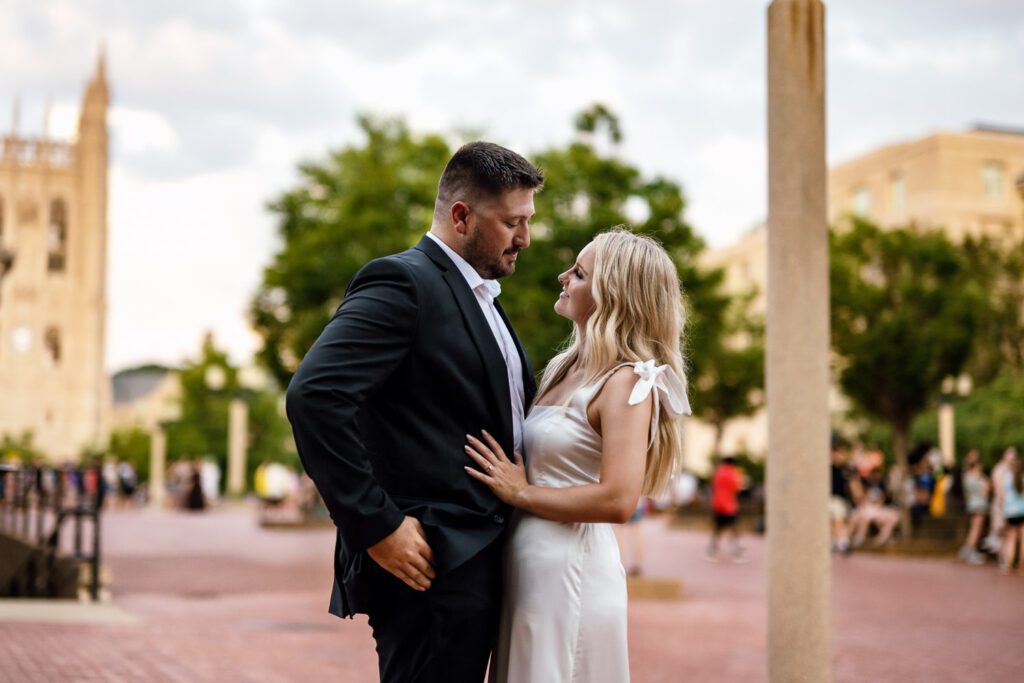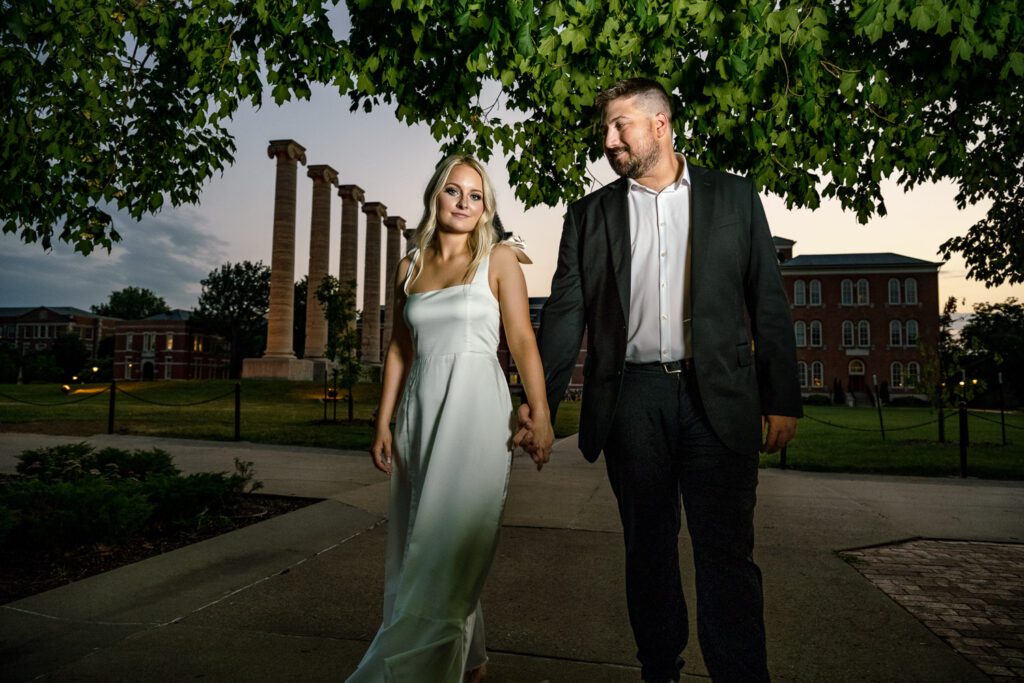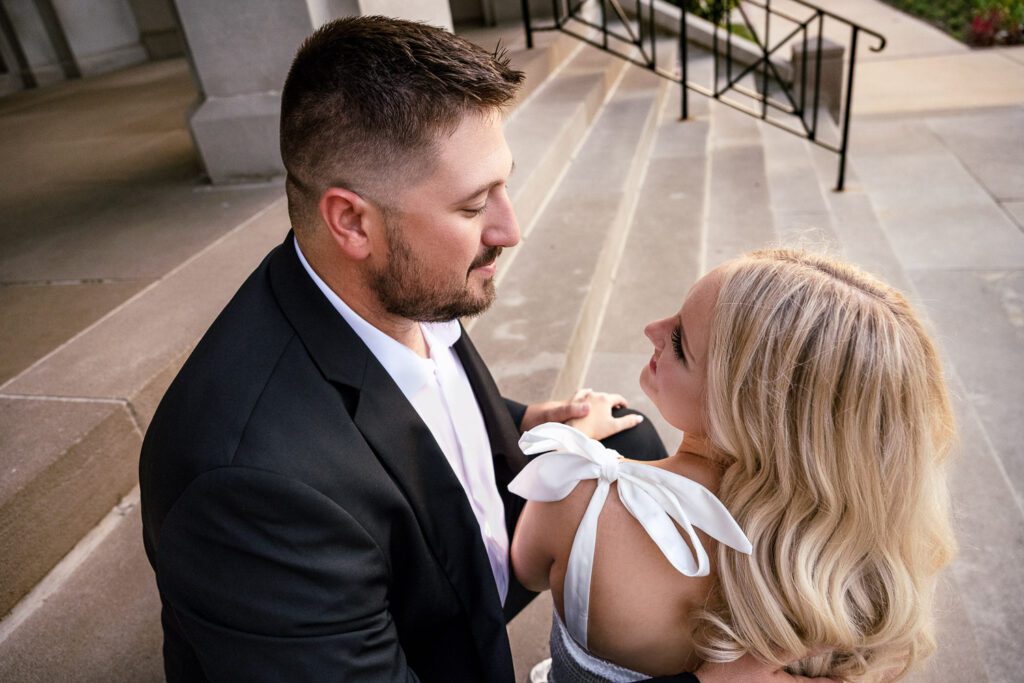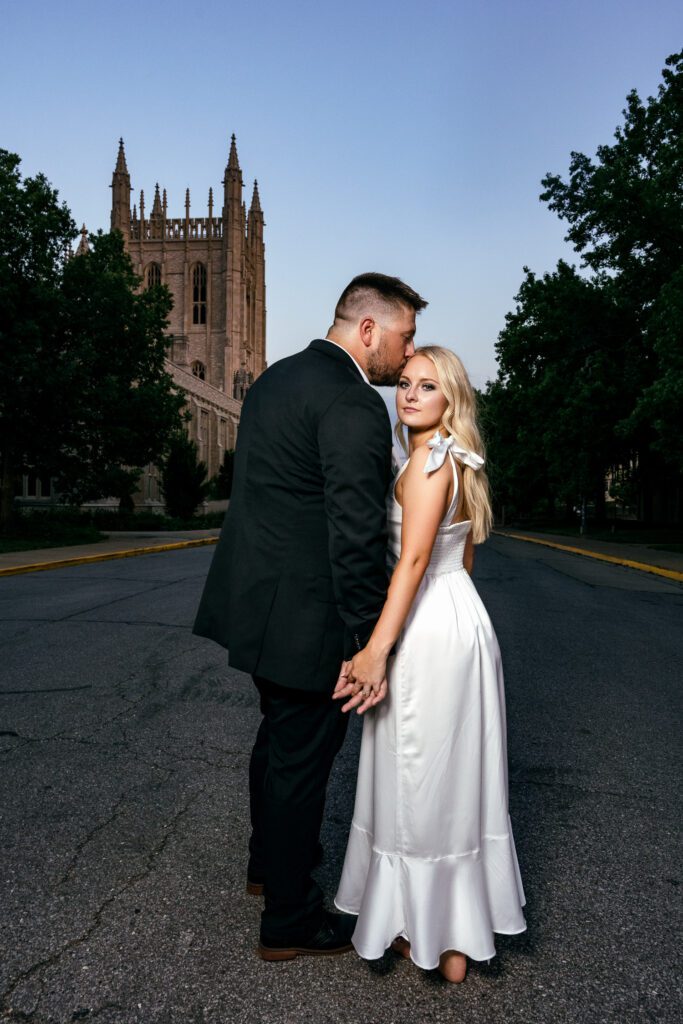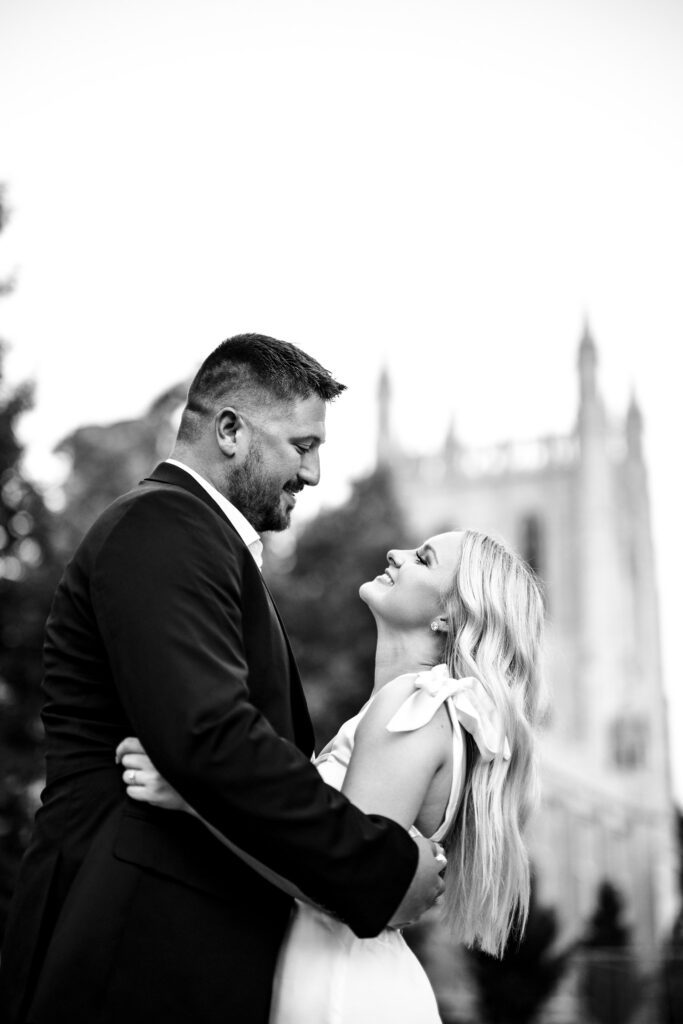 An Unexpected Engagement Session Surprise – 1956 Thunderbird
We started off shooting some dancing pictures of the couple outside the Rhynesburger Theater and then moved into the middle of the street with Memorial Union over their shoulders. As we were shooting in the street a beautiful classic car came driving our way. It was a convertible and Scott being good ole Scott started talking to the driver. This would mark the first time he actually talked someone into letting us use their car in one of our photo shoots while they were driving 🙂 The classic car and Courtney and Michael's attire made for some beautiful moments that remind us of all the photos we've seen coming out of the 1950's and 60's. We were so fortunate to have met the lovely couple driving that night and to be able to use their gorgeous buckskin colored 1956 Thunderbird as a prop. Fun fact: Only 500 were made in that buckskin color.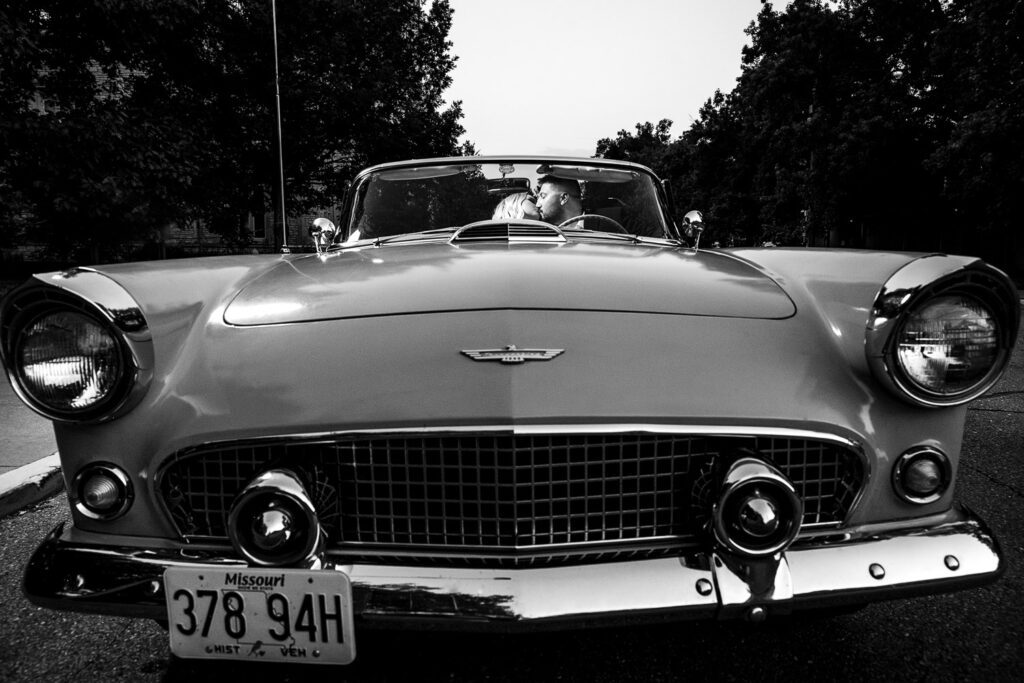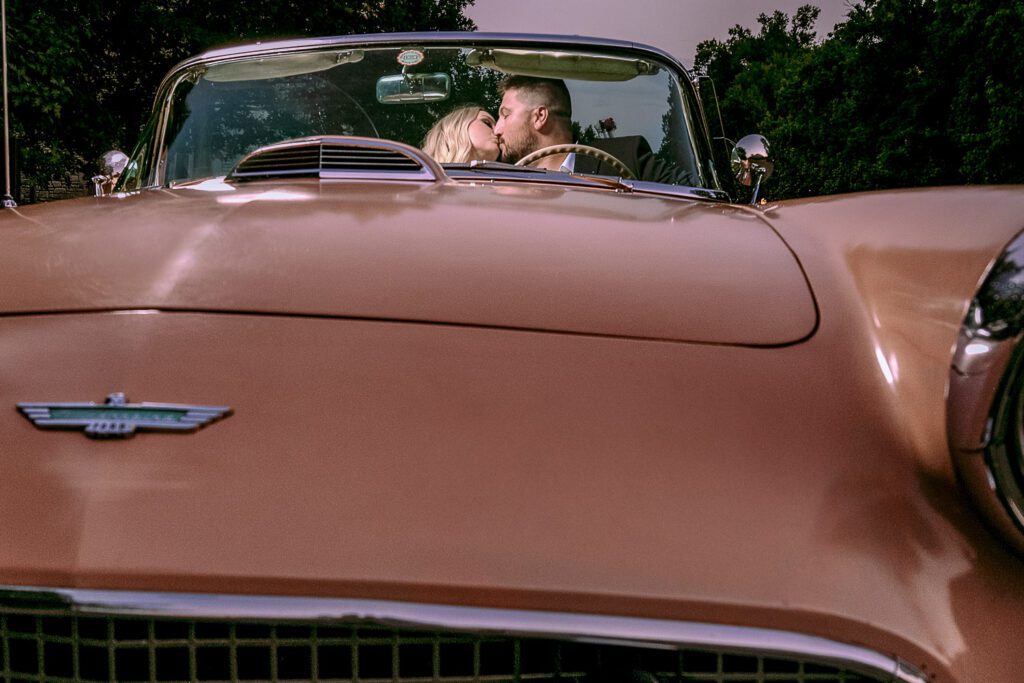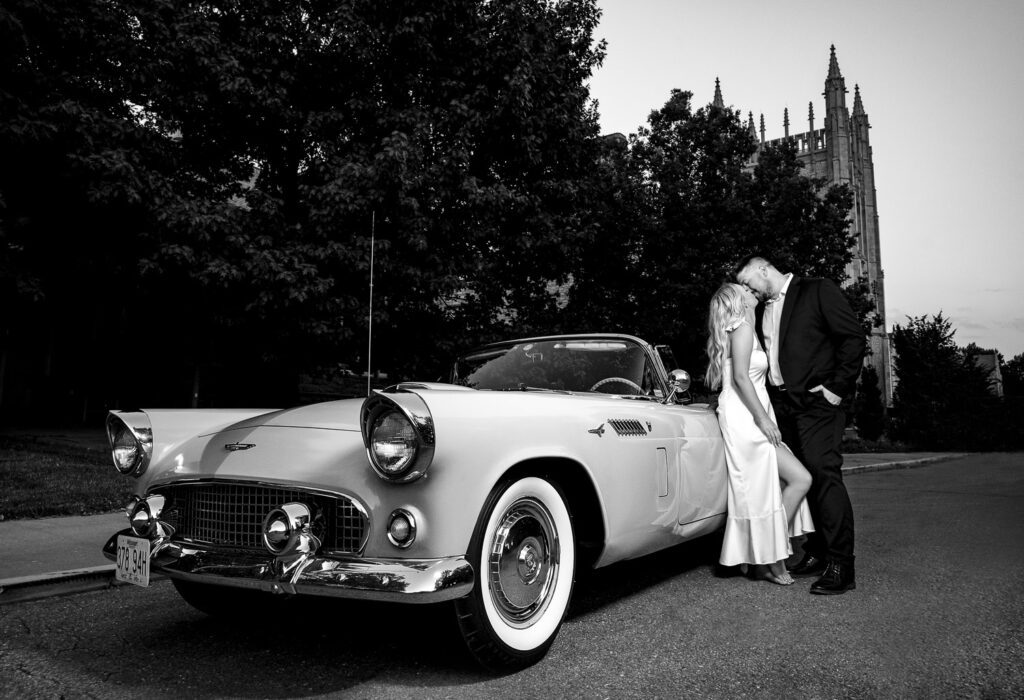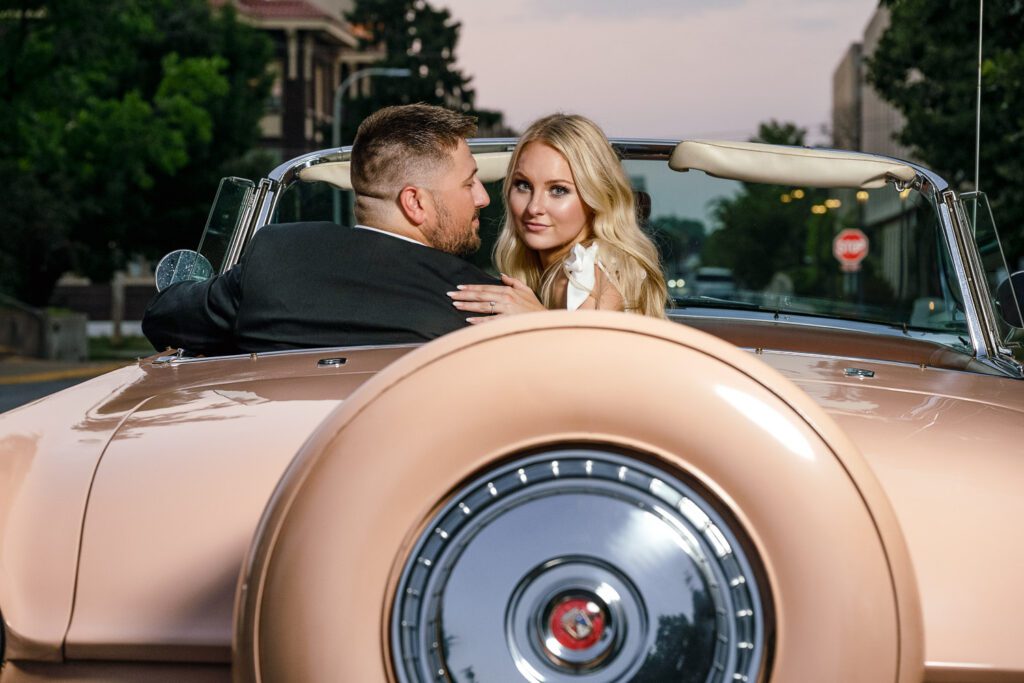 Once we finished borrowing that beautiful car and dancing in the street – it was pretty much dark so we quickly made our way over to the site of their first meeting and shot a few last pics in front of the Missouri Orthopedic Institute before they started their late night drive back to southeast Missouri.
We are so glad that Courtney and Michael made the drive up to meet us and we are so excited for them as they start life's journey together.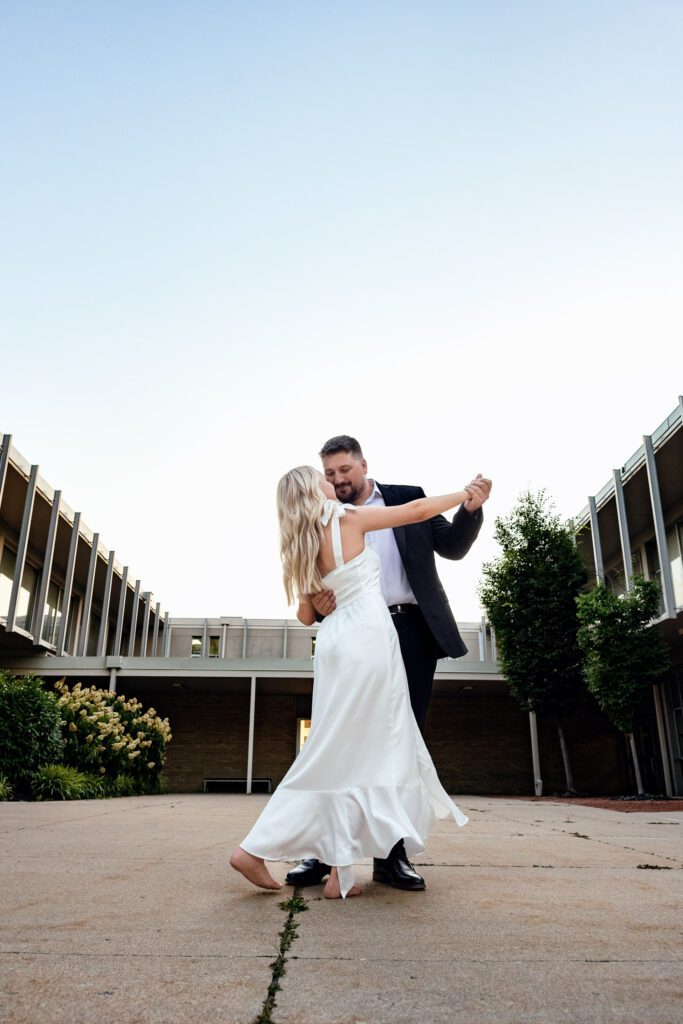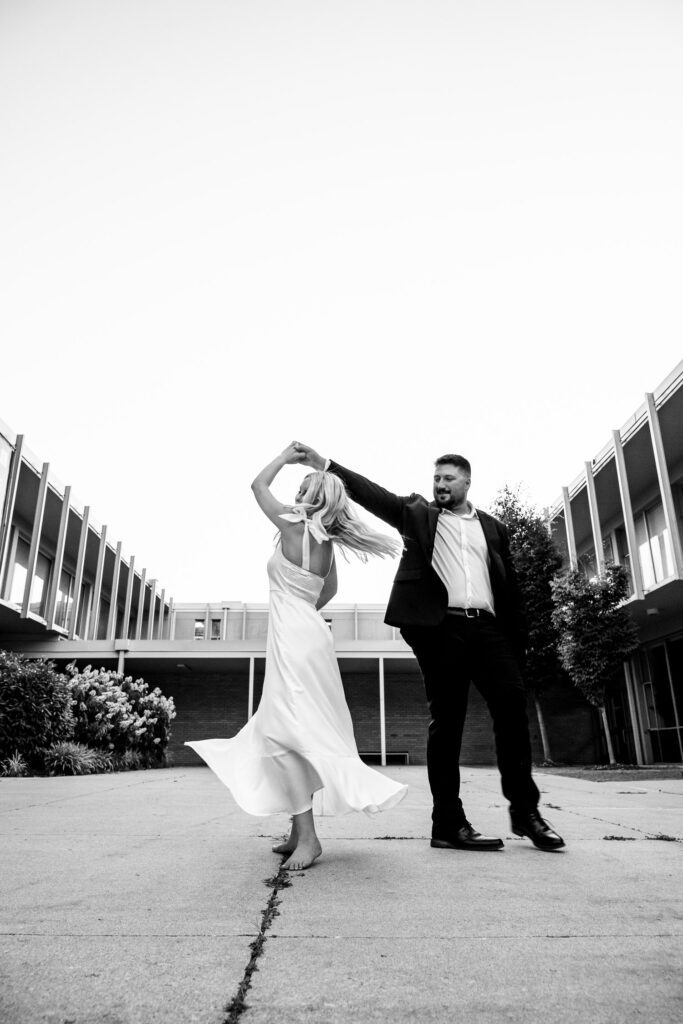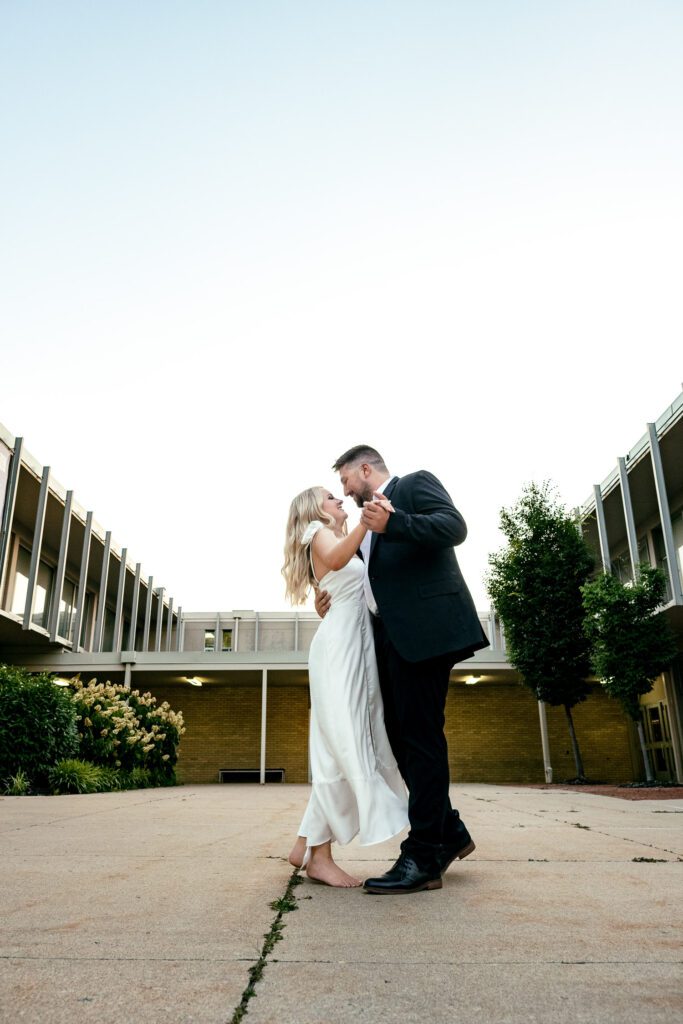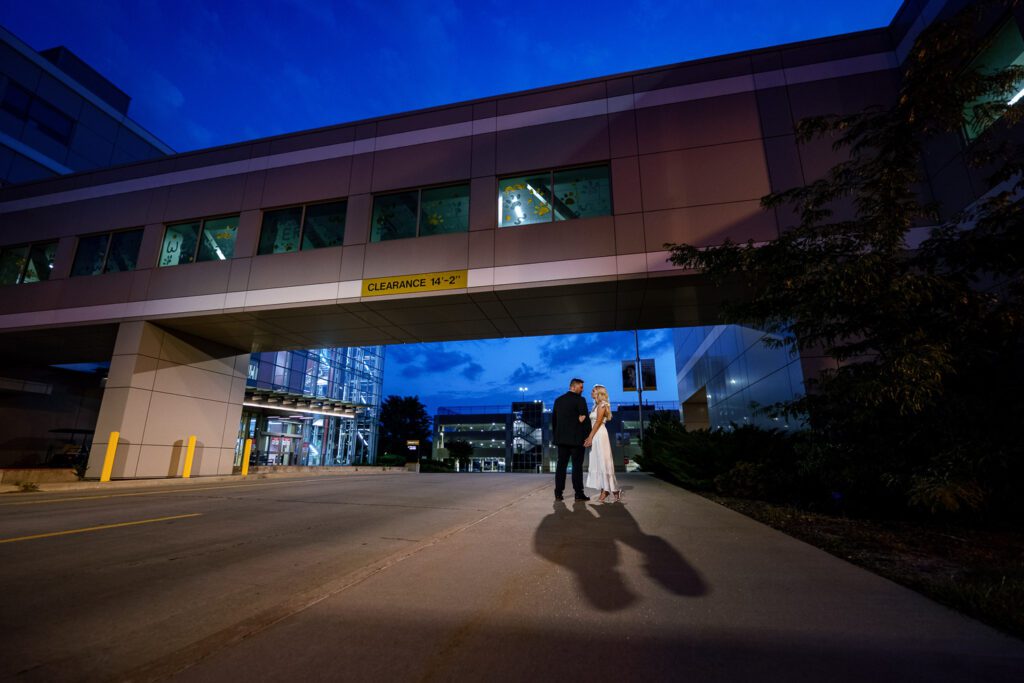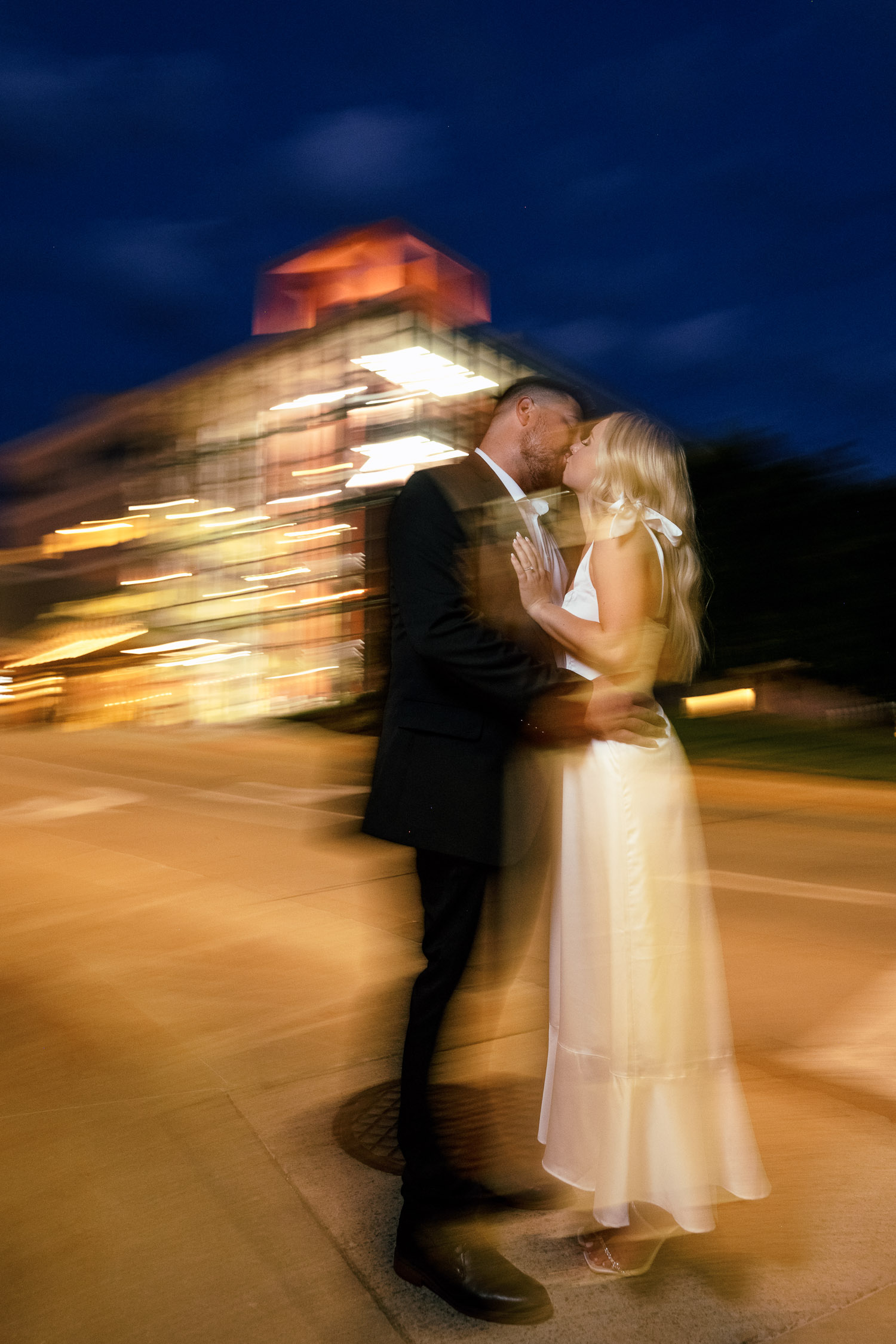 Get in touch with us and let us help you make some awesome memories!