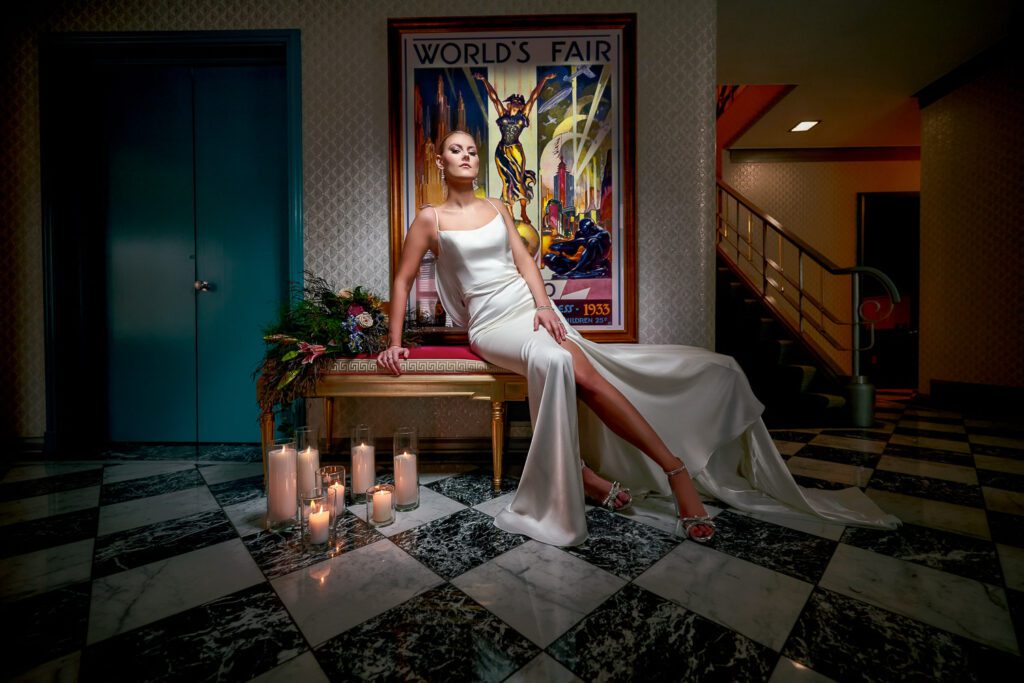 When Ashley Gross Minor of Delight Events reached out to see what our thoughts were on doing a styled shoot with her, we first wondered if we had the time or energy. But then she showed Shannon one single image to use as inspiration and we were fully invested! Ashley wanted to do something more editorial, highly stylized and not a light and airy design that most brides tend to choose. We love mixing things up and color is our passion for wedding photography.
We first started sharing a Pinterest board to get more ideas flowing and our first big decision was to choose a venue. When we thought of old Hollywood glamour and a wide range of color palettes we immediately had The Chatol in Centralia, Missouri come to mind. If you've never been, its a must. From the gorgeous exterior with its curves and art deco architecture to the highly curated interior that screams luxury, its amazing.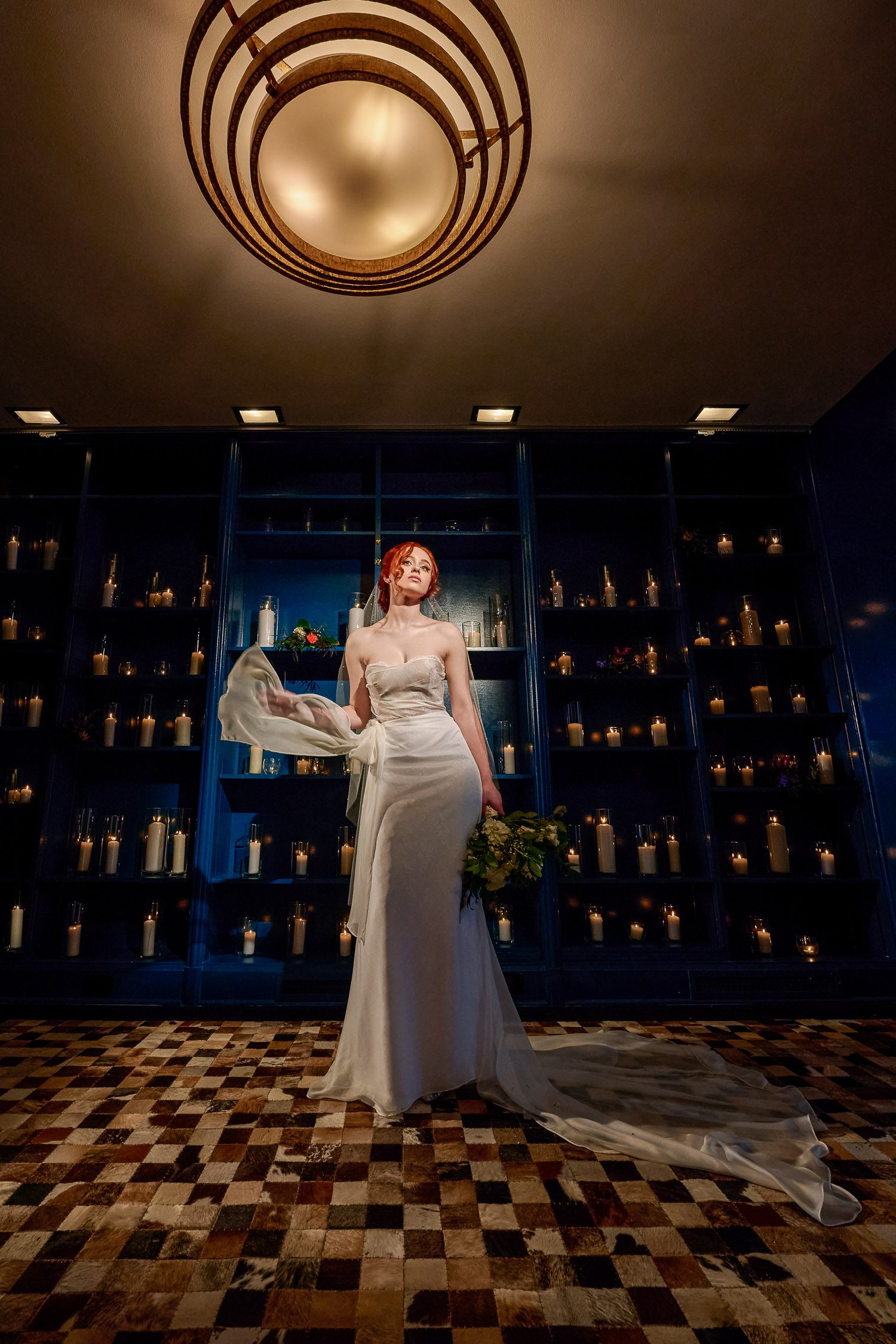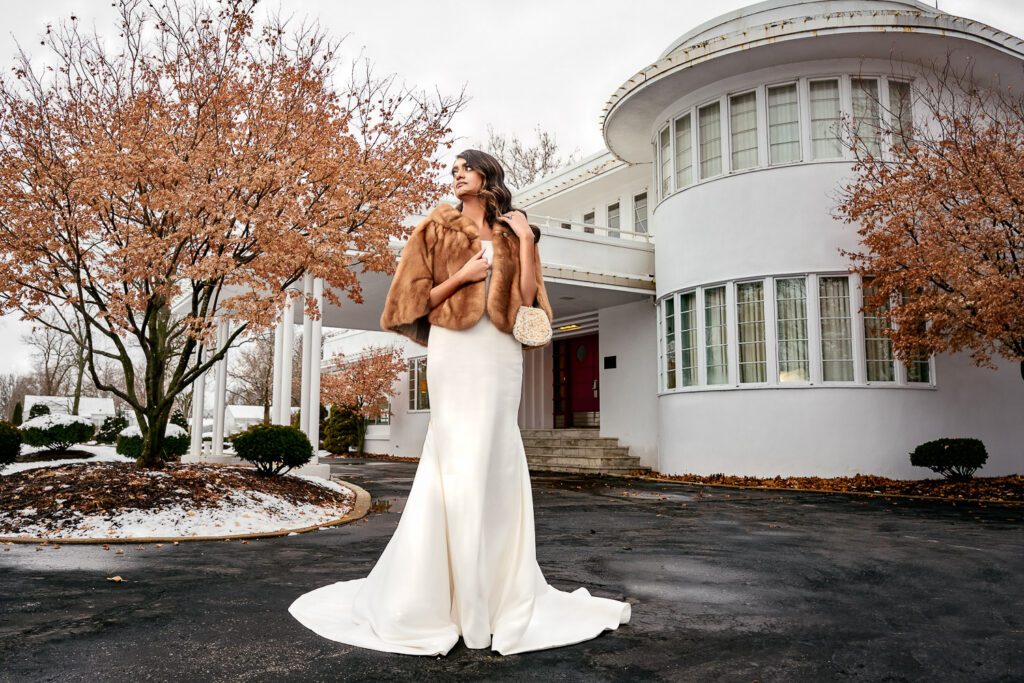 When we started really diving in to all of the wonderful rooms we could use at The Chatol, Shannon had a crazy thought…what if we do TWO themed shoots at the same time? Two brides, two styles, two totally different vibes. Absolutely insane, but why not use the venue to showcase its range? We were hesitant to present this idea to Ashley because we know this would mean double the work, but somehow her level of insanity is just as high as ours and she was on board! We were now planning to do one light, soft and romantic set as well as one dark, moody, and more glamorous set.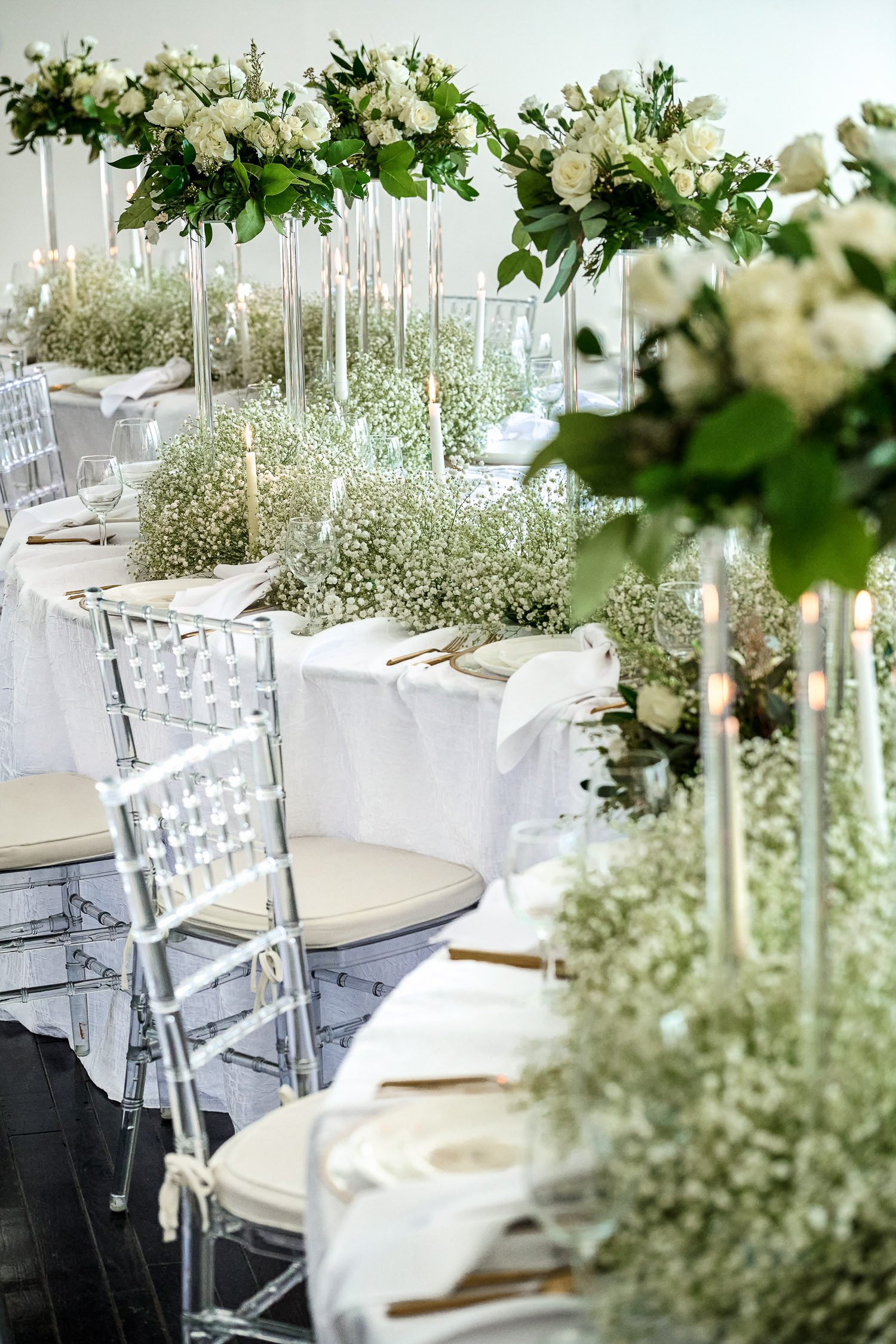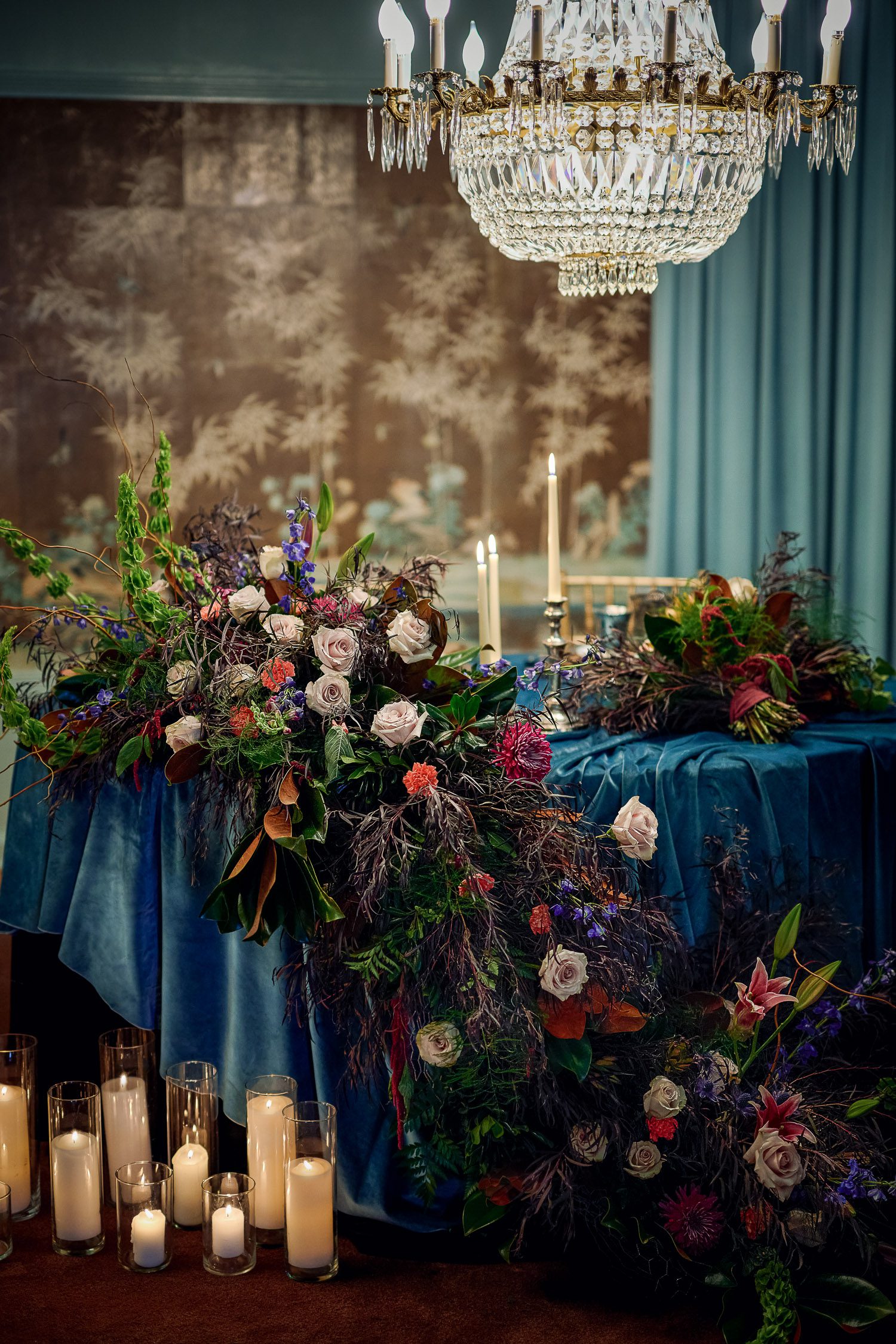 Next, we had to choose the second most important piece, the dresses! Ashley wanted to see if her friend, Nadine, would have the time to custom create one of the gowns, and she happily accepted the challenge. We also used Vows for our second gown as well as our veils and headpieces. Vows even graciously let us borrow another gown that we decided to throw in the mix (I'll mention that craziness later!).
The model search was probably the hardest part of this whole thing. We wanted very specific looks and we had a lot of interest during our model call on Facebook. We always had our intern in the back of our mind, but didn't want to put that pressure on her right away. But honestly, Brie was what Shannon was envisioning for this shoot. She had the perfect red hair and soft porcelain skin that was the exact image we had in mind for the soft and romantic set. We lucked out because we already had Brie scheduled to help with the shoot so she was free and was excited to do more than be an assistant for us! Our dress designer also had someone in mind that was a personal friend, so when we saw pics of Megan for the Hollywood Glamour set we knew she was the right choice.
Remember how we mentioned craziness with extra gowns? Well we knew Nadine also custom makes robes for brides. And The Chatol has an AMAZING room for the brides to get ready in. Why not just throw in a 3rd set and have a getting ready bride to showcase some of Nadine's beautiful robes? Ashley had Mansi in the back of her mind for a model in this styled shoot and didn't want to miss out on the opportunity to work with her. So we took another crazy leap and signed her up for this new set which would be luxurious, pink themed, and would cover the getting ready aspect for the bride on her big day. Later on we realized we still had beautiful jewels from Betz Jewelers and extra gowns on hand so we went ahead and added yet another set and did a wintery outdoor bride and took full advantage of showcasing Mansi. It was officially going to be 3 brides, 2 fully styled sets, 1 candlelit set, 2 robe sets, 1 outdoor set, and 2 sets featuring all 3 brides. This was madness…but was absolutely worth it!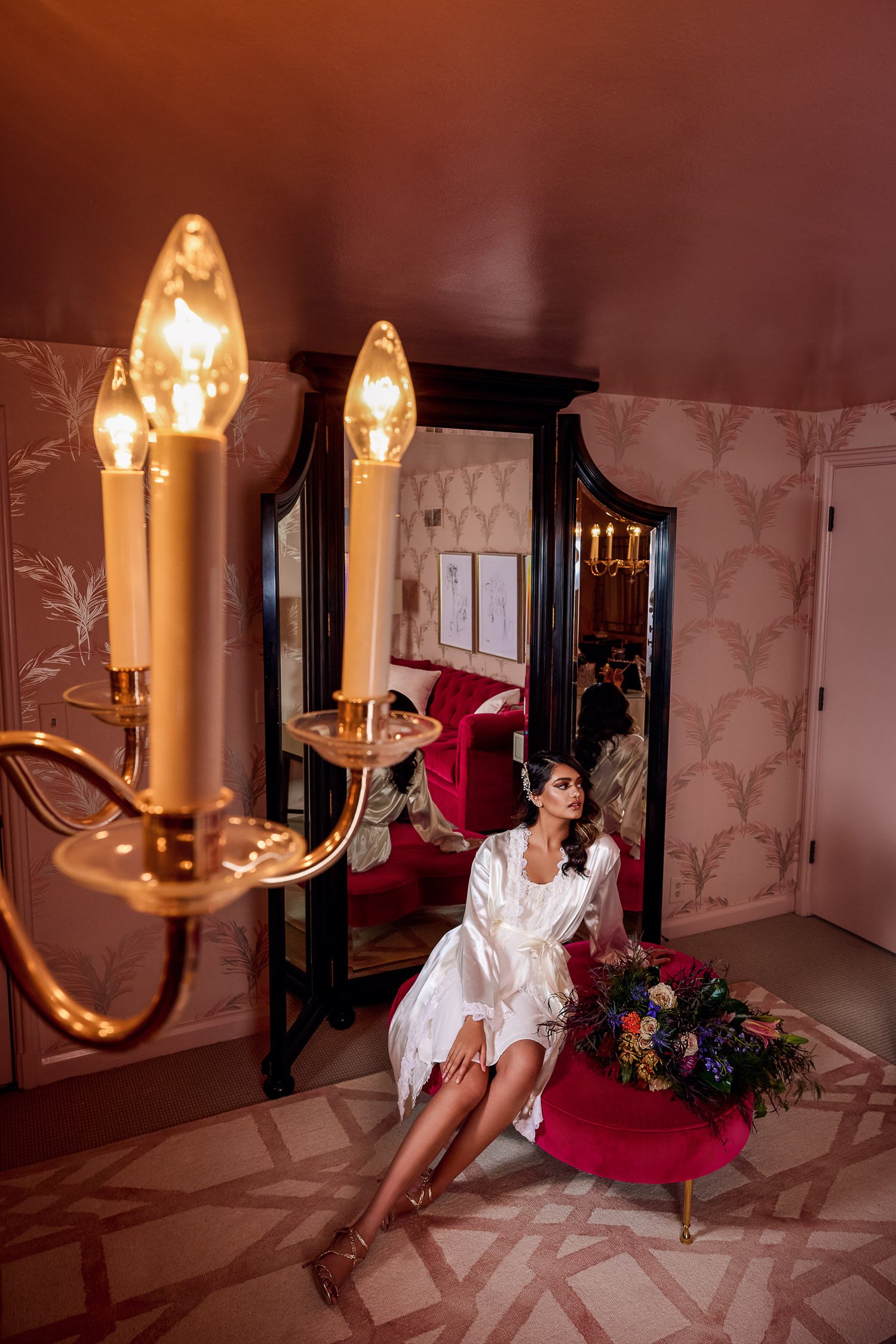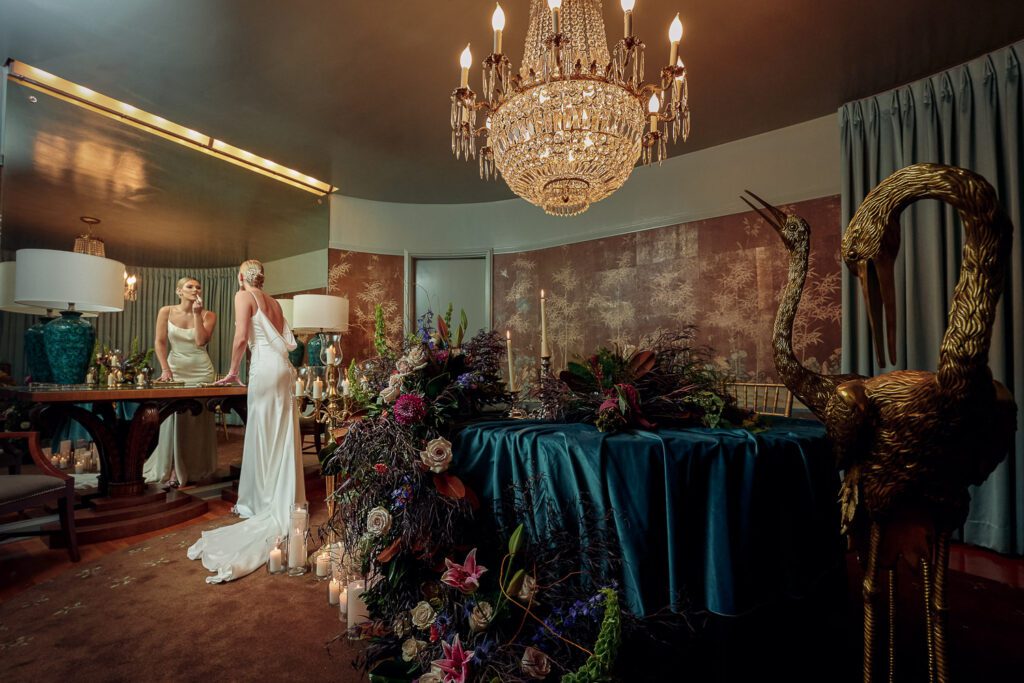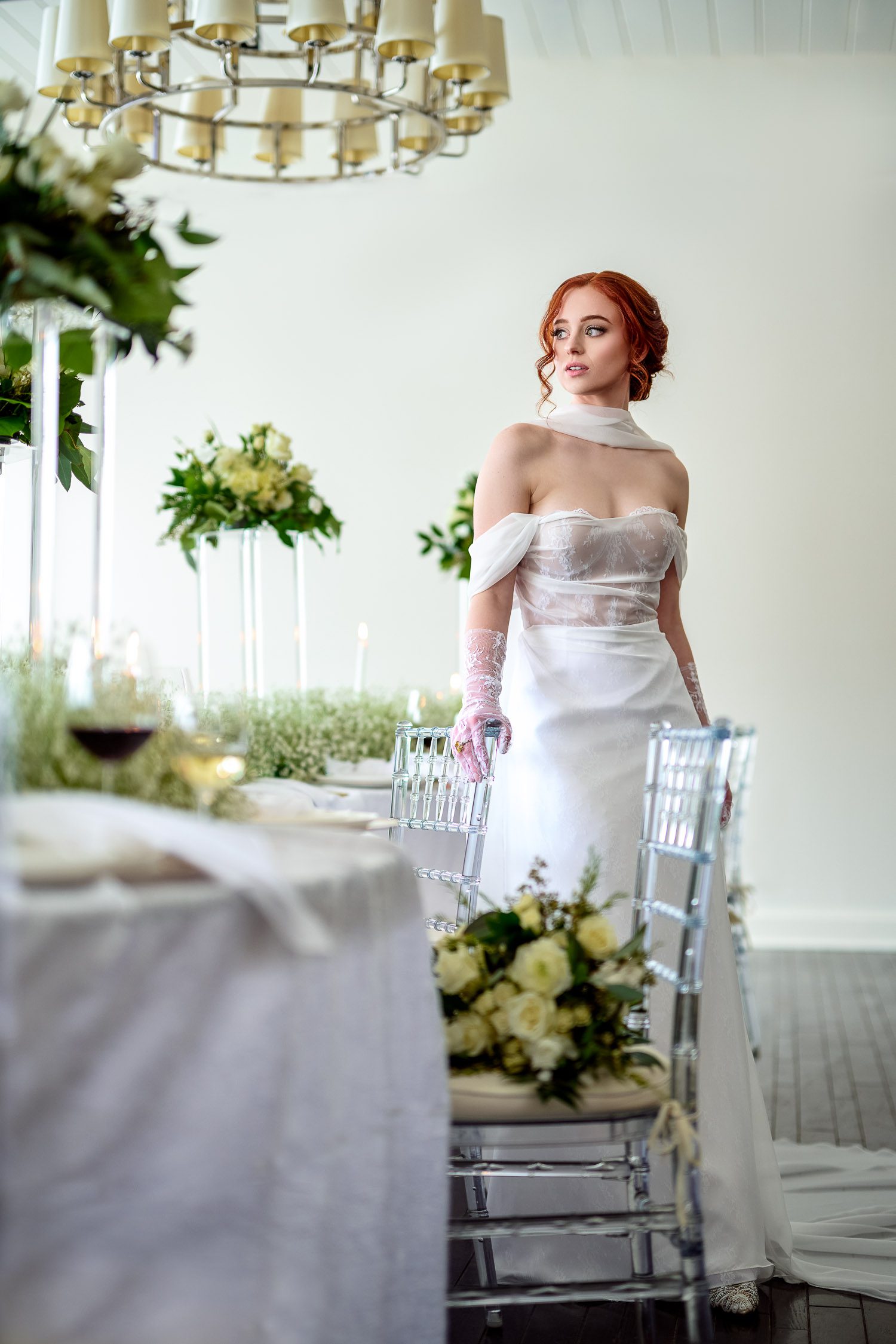 The shoot day was rapidly approaching, and so was the snow forecast. There were so many moving pieces and we did not need any hiccups. Obviously, some snow on the ground would make for dreamy photos, but not exactly great for everyone to make it to Centralia safely. It wasn't until Ashley sent us a picture of one of the floral displays ready to go from Maci at Buds Flowers LLC that we knew this was actually going to work. It was stunning, and everything we dreamt of for the styled shoot. Unfortunately, we did have a couple of plans that had to be changed last minute but thankfully everything worked out and every single piece came together flawlessly. We are so appreciative of all the hard work the team of Vendors put into making this day so beautiful!
Rarely do we get the opportunity to really stretch all of our lighting and posing skills like we did on this shoot. We took advantage of having a full day to make these sets come to life. Usually on a wedding shoot you're under time constraints and there are nerves and outside distractions you have to work with. The team and models were all so gracious and patient to let us play and really nail each pose and lighting scenario.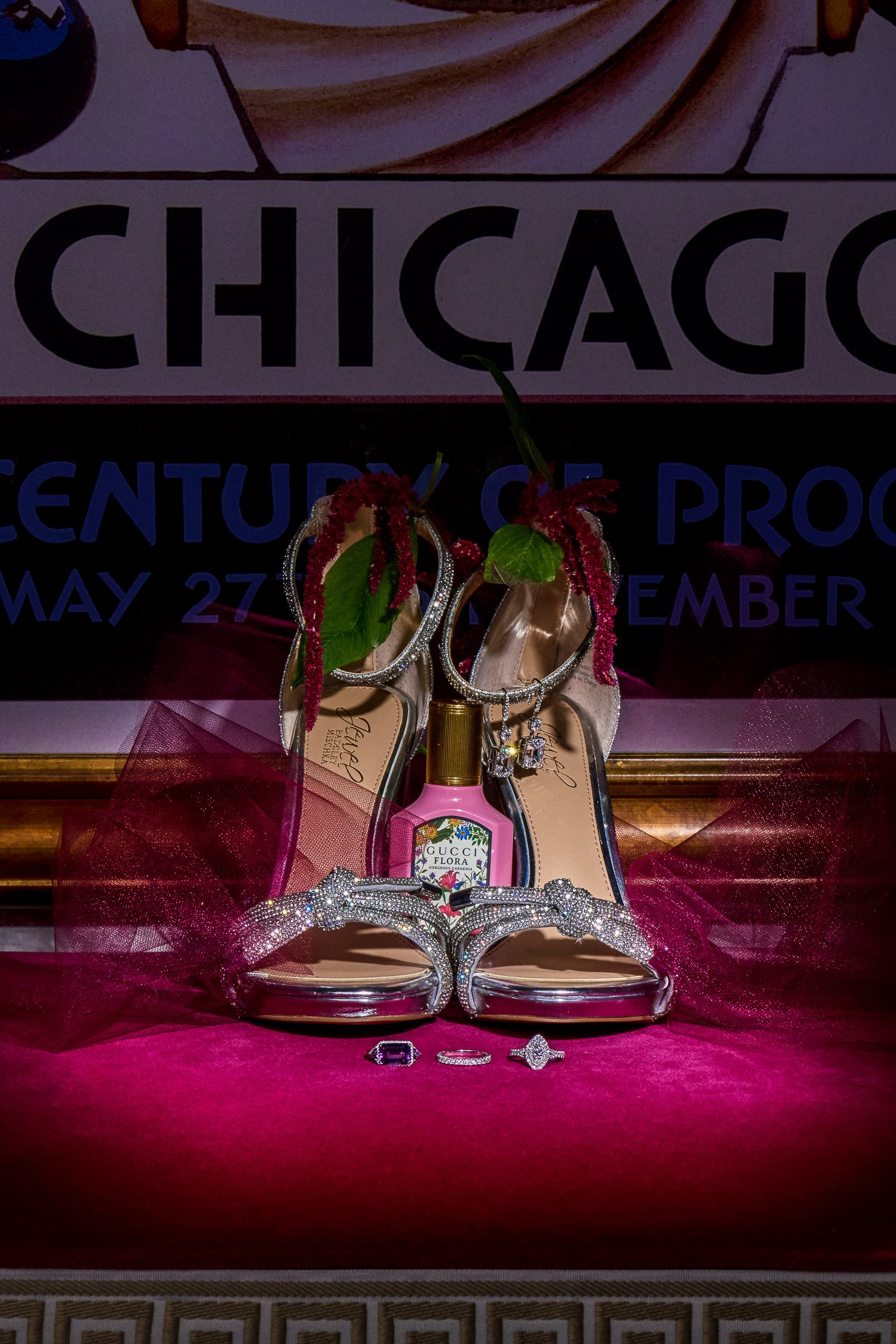 We hope everyone loves these images as much as we do! Every single inch of every single photo was touched by every single person at this shoot. From the model, to the dress, to the hair, to the makeup, to the jewels, to the shoes, to the backgrounds, to the cake and the florals. It was 100% a team effort to make each image perfect.
Ashley, you are amazing. From the planning to execution of this shoot, this was one of the best projects we have ever worked on. You allowed us to have creative controls and you were an excellent team member to collaborate with. I don't know that we've ever felt so in sync with a project and shared so many similar ideas.
– Shannon and Scott
Vendors:
Venue: The Chatol
Photographers: Schaefer Photography
Event Planner: Delight Events
Flowers: Buds Flowers LLC
Rentals: A1 Party Event Rentals
Make Up: Lux Refinery Como
Hair: Flair Studios Styles by Sid K
Cake: Cakes by Kristina
Wedding Dress & Robe Designer: Designs X Nadine
Jewelry: Betz Jewelers
Wedding Dress & Veils: Vows Bridal
Calligraphy: The Tawny Canvas
Models: Brie, Megan and Mansi