I remember the day I first saw my unique basket weave wedding band.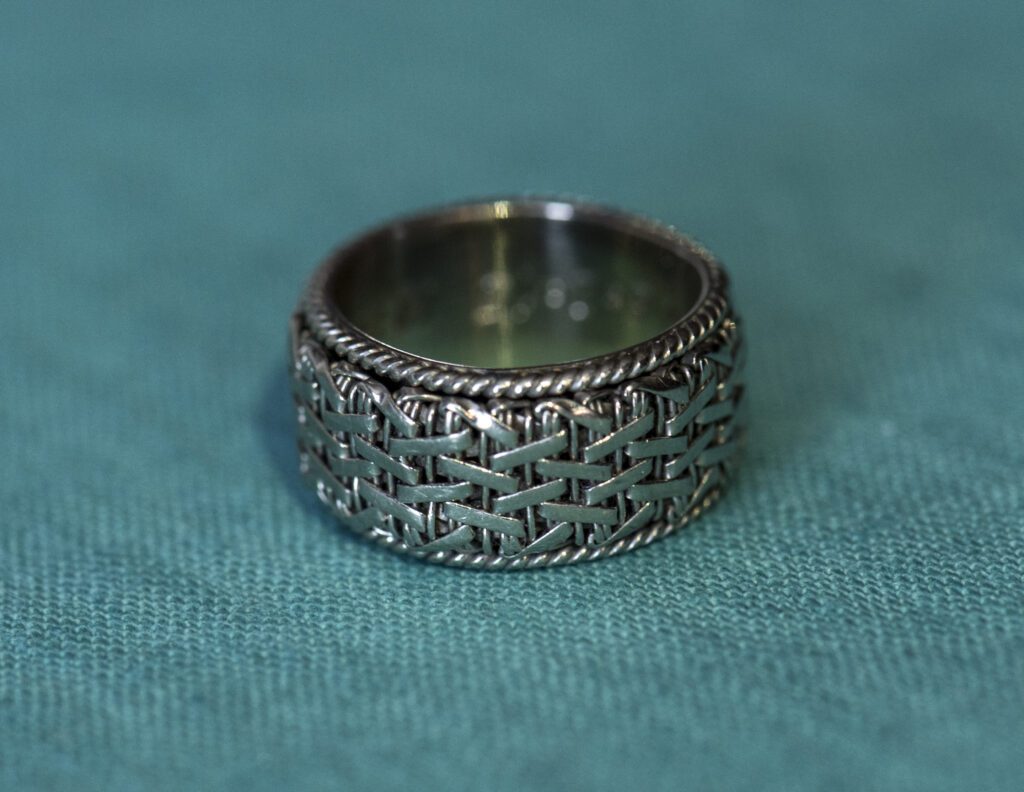 Shannon and I went to a St. Louis Cardinal's game with her family on May 17, 2014 – just ten days after we got engaged 🙂 and while waiting for the game to start, we all gathered on a bench outside the Federal Courthouse just a few blocks from Busch Stadium.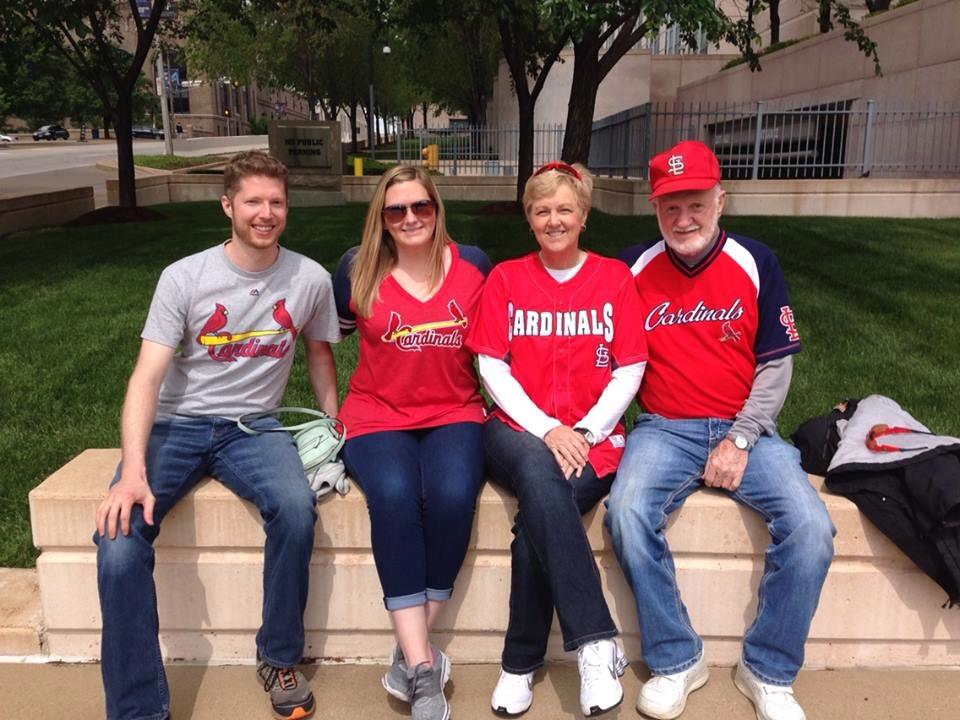 I wanted a unique ring and Shannon said the one her father had worn was absolutely gorgeous. He unfortunately passed away when she was just 4 years old. Since that time, her mother had worn it and now they offered it to me. It was quite the honor. Her mother pulled the woven basket weave mens wedding band out of her purse that day and I instantly knew it was the one for me. It was made out of gold wires that were woven together with what I would describe as flattened wires to create that hand-woven basket weave. Both sides of the ring were made of a twisted rope. The ring was originally purchased in the 70s at a jewelry store in Memphis, Tennessee from a jeweler who worked with Elvis Presley for her parents wedding in 1978.
We had the basket weave wedding band resized to fit my finger and dipped in white gold to freshen it up at Buchroeders Jewelers in Columbia, Missouri.
On our wedding day, I remember how excited I was to get to wear this beautiful piece of jewelry with the knowledge of how special it was to my lovely wife and her mother. My hope was that it would stay on my finger until one day it would be passed on to my children.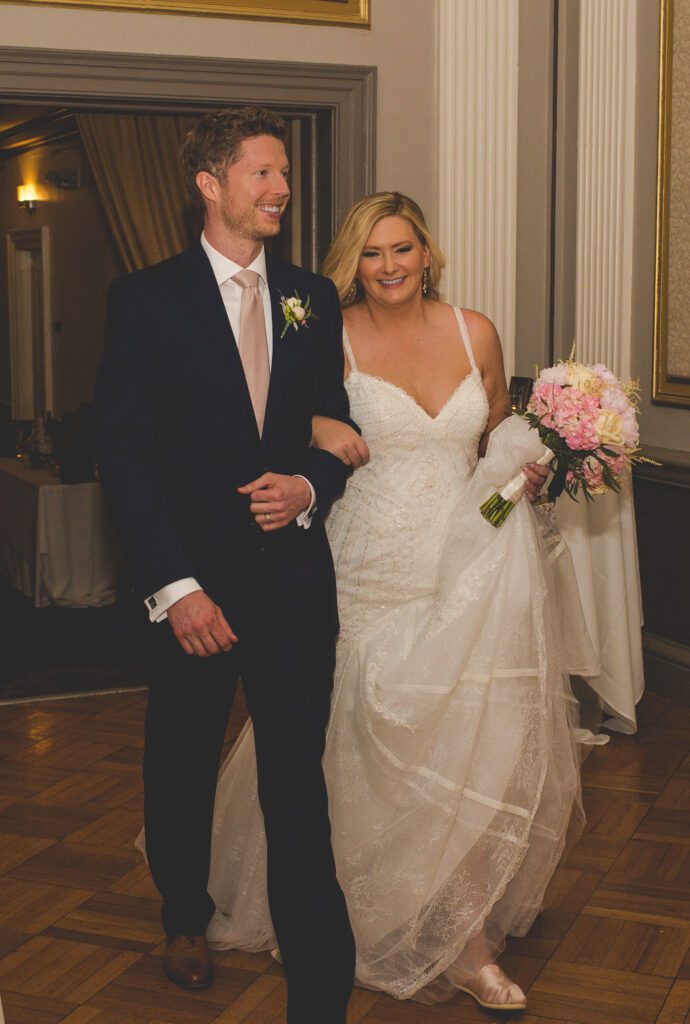 Unfortunately, on a cold January 12th, 2018 in Chicago, I lost my wedding ring. We were visiting my brother in Western Springs, Illinois and we only left his house for 30 mins that day to make a couple quick stops. We went to Caseys Market in La Grange, Illinois and Whole Foods in Hinsdale, Illinois. I was wearing winter gloves that day and remember my ring popped off my finger and I found it in my glove. But without thinking twice, I put my ring back on and then put my gloves back on my hands. A little while later, while loading our daughter in her car seat, I realized it was gone.
I can't tell you how heart broken I was to have lost my wedding ring. I know it was just a piece of metal, but it was a special reminder to me of finding the love of my life. We searched long and hard, we even hired a professional to search my brothers yard with a metal detector – but no luck.
Ever since that day, we've been looking for someone who could recreate that hand woven look (I've since learned it was probably machine woven) but have only found CAD solutions that just don't quite look like the original. If you or someone you know might recognize this ring and know where I could get another one, I would be forever grateful. Or if you've found it in Chicago and would return it to me, even better! To me, It was a one of a kind and I would love to have it back on my ring finger!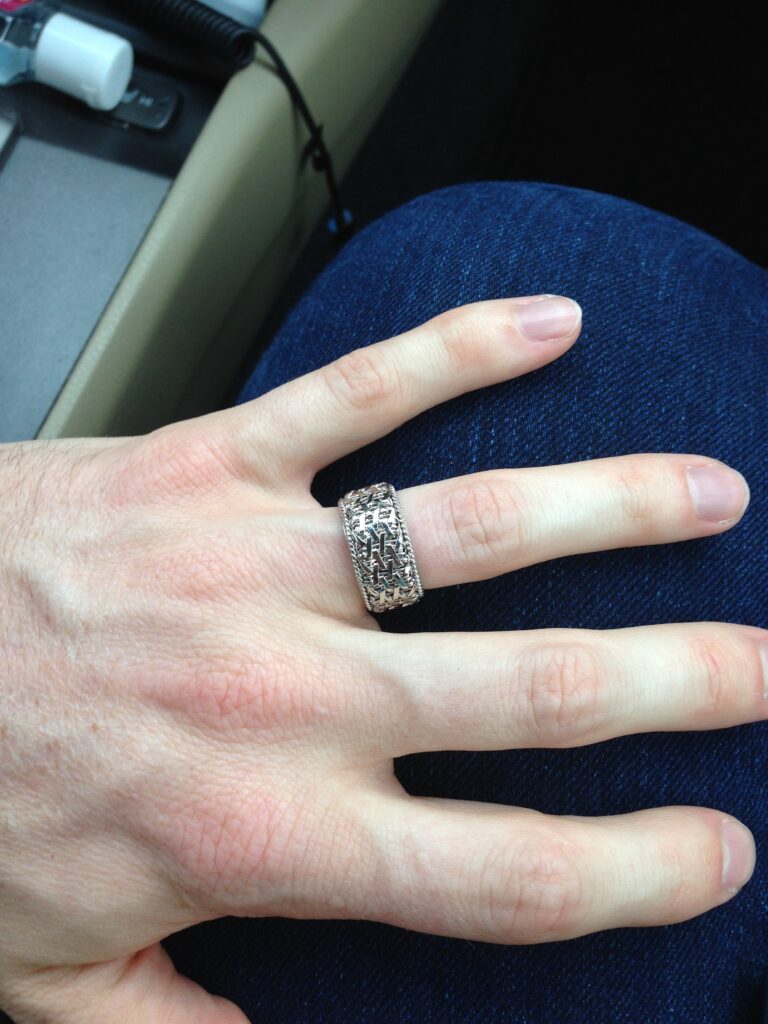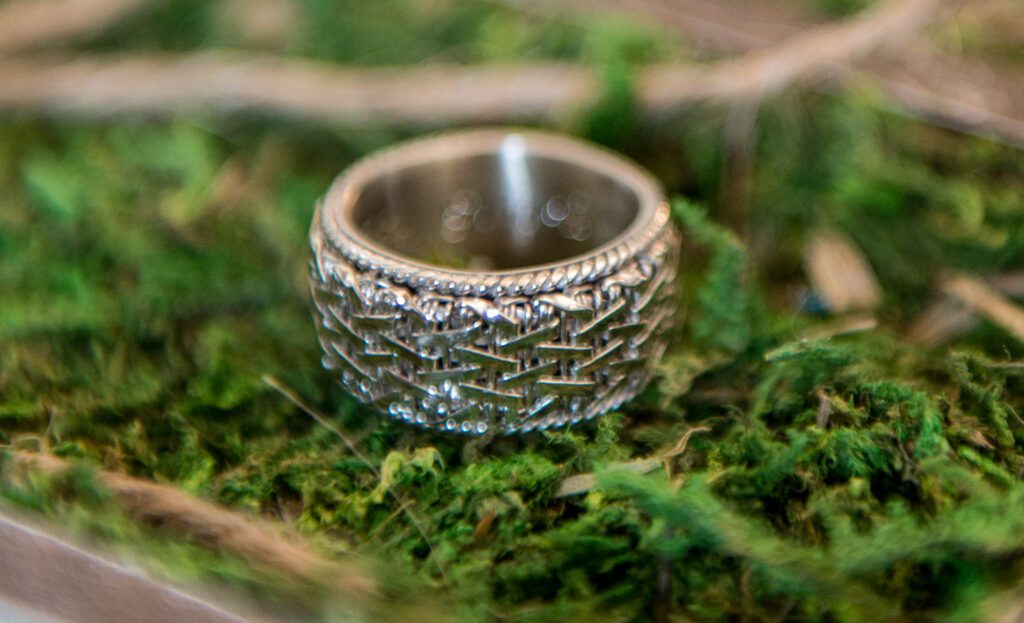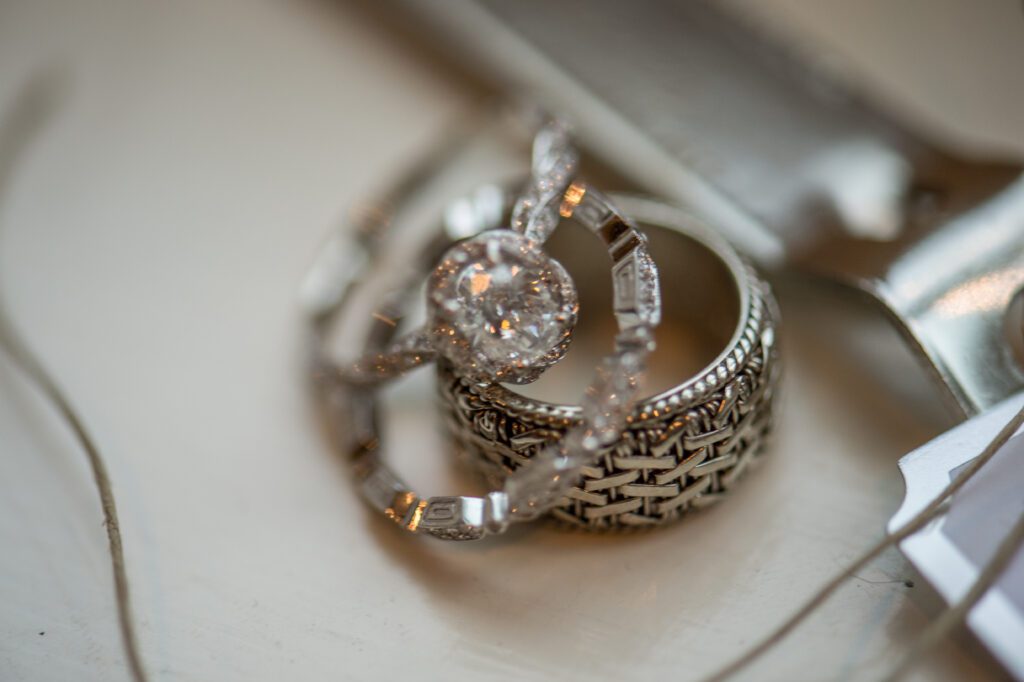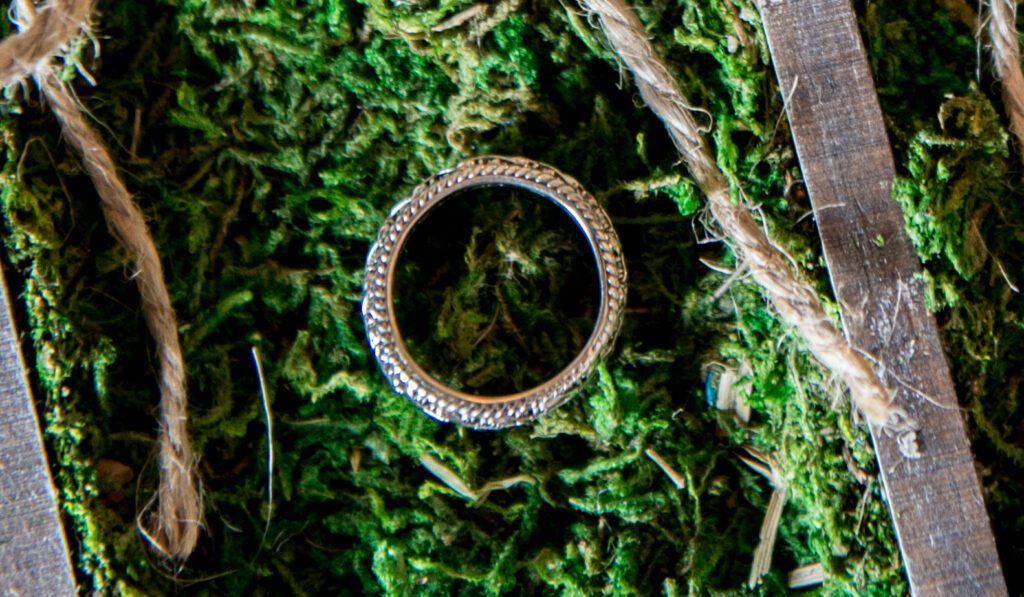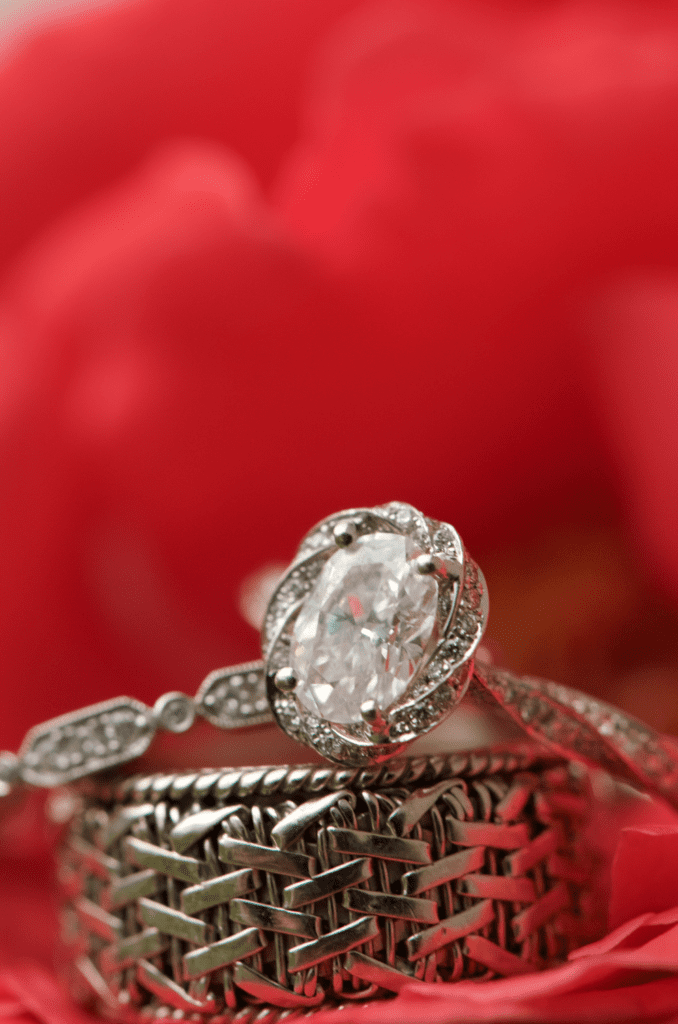 Please reach out to us at info@schaeferpix.com if you have any helpful information!
-Scott and Shannon Schaefer